Strathcona County celebrates Pride Month
June 1, 2022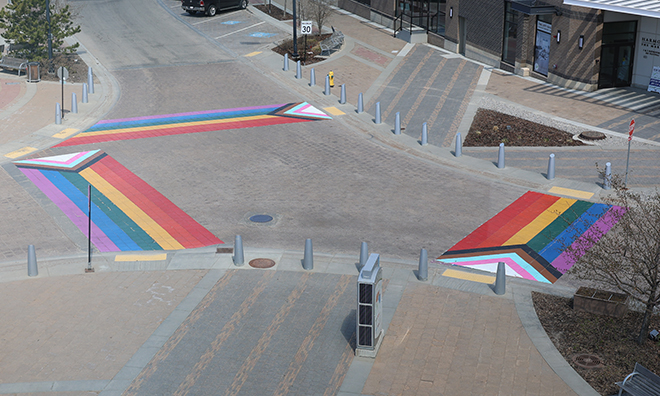 During the Pride month of June, Strathcona County joins in recognizing and amplifying the contributions and diversity of 2SLGBTQ+ community.
"Strathcona County is proud to celebrate diversity, including the important voices of 2SLGBTQ+ community," says Mayor Rod Frank. "Having an inclusive and welcoming environment helps everyone's sense of safety and well-being."
Council has consistently prioritized inclusive initiatives, having unanimously passed a motion to participate in Pride Week activities in 2018, aligning with the County's commitment to diversity and inclusion.
It remains important to have visible signals that all community members are safe, welcome and celebrated in Strathcona County. In May 2022, Strathcona County painted its three pride crosswalks with the progress flag colours, updating the original six-colour pride design. Residents can visit the crosswalks, located at the Community Centre traffic circle connecting Festival Avenue and Festival Lane. 

During Pride Week, the Pride Flag will be flown at the local RCMP and Enforcement Services detachment and at the community flagpole, located in Volunteer Plaza across from the Community Centre. Rainbow patches and Pride buttons will also be available for Community Peace Officers to wear while on duty during the month of June.
In addition, Strathcona County has invited AltView to share information with staff about 2SLGBTQ+ topics, including how to be an ally and supportive language.
For more information about the County's approach to diversity and inclusion, including links to Pride activities throughout the community, visit strathcona.ca/Diversity.

-30-
Contact: Strathcona County Communications, 780-410-6595