Pitch-in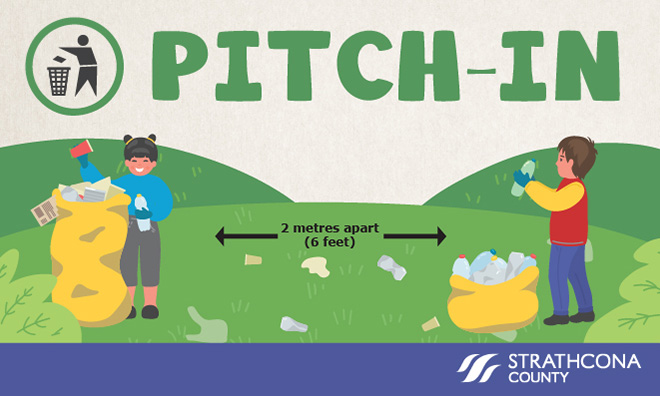 Pitch-In to help Strathcona County shine!
May 16 to 24, 2020
Pitch-In is a volunteer program that helps keep our community clean. Families and individuals are invited to Pitch-in, in their own neighbourhood. Grab your own garbage bag and help make Strathcona County beautiful in 2020 by joining in this national campaign to clean up the environment.
How to get involved:
Submit a registration form to recreation@strathcona.ca
Please note that this year, due to facility closures and public health recommendations, we do not have Pitch-In bags available for pick up.
We will get back to you to confirm which area you plan to tidy up, and when.
Please leave all collected bags near the entrance of a park space so that our crew is able to easily identify and pick up the bags.
Send us a follow up with how many bags were collected and where they were placed (i.e., near a sign or landmark.) This helps our crew plan the pick ups and allows us to record and celebrate your contribution! 
Remember to stay safe and help prevent the spread of Covid-19 while outdoors:
Maximum of 15 people
Always keep at least 2 metres (6 feet) distance from others, unless the individuals are from the same household
Avoid touching communal surfaces and wash or sanitize your hands frequently
Sharing equipment is not recommended outside of the same household
In 2019, more than 1,550 bags of garbage were collected in Strathcona County, thanks to the 6,123 volunteers. Across Canada, in excess of 821,390 volunteers helped clean more than 29,927 sites.