The Warren Thomas (Josephburg) Aerodrome is located 1.6 kilometres north of Josephburg on Secondary Highway 830, and is approximately five kilometres south of Alberta's Industrial Heartland. It is managed by Strathcona County. 
The aerodrome is used for privately owned and commercial aircraft. The lands around the property are primarily used for agricultural purposes.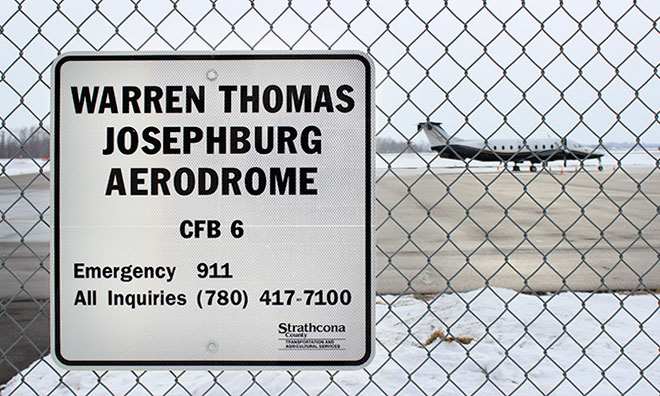 Contact information
Mailing address
Warren Thomas (Josephburg) Aerodrome 
2001 Sherwood Drive 
Sherwood Park, AB T8A 3W7 
Canada
Airport Strategic Plan (1.2 MB)
Features of the airport
one paved runway, 4,560 feet by 100 feet
28 bare land lease sites (currently none available)
20 aircraft tie-downs (contact us for availability)
Services
100 LL & Jet 1-A fuel available
24 hour Visa/Mastercard for fuel
public terminal
air traffic control system
VFR day/night rotating beacon
radio controlled airport lighting
Automated Weather Observation System
Precision Approach Pathway Indicators (PAPIs)
Omni Directional Lighting System (ODALS)
Procedural Approach G.P.S.
Fees (Excluding GST)
$775.00 - Private Bare Land Lease
$950.00 - Commercial Bare Land Lease
$39.00 - Turf Tie-Down/Month
$17.00 - Transient Aircraft Parking/Day
County Connect
Ask a question, provide feedback or report an issue.