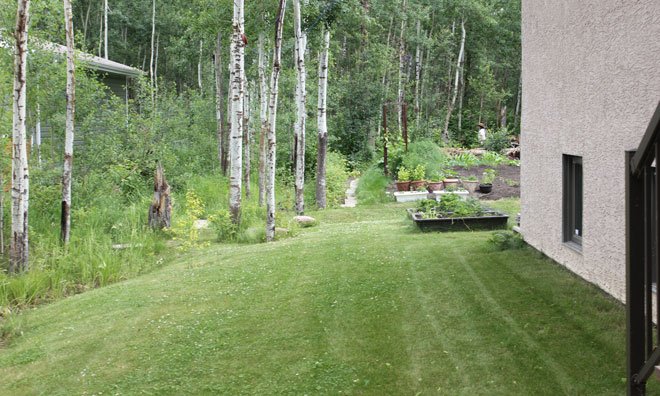 A simple spark can cause wildfires. Preparing for the threat of wildfire is a shared responsibility. Below is some information and links on what you can do to help reduce the risk of wildfires. 
Spring and fall are high risk seasons for wildfire. By reducing risks, there is less chance a wildfire will affect your property. We suggest that rural residents consider the  program by taking the time to assess your property and eliminate as many fire hazards and fuel sources as possible.
Get started right away! 
Some easy things you can do today are:
Mow and water your grass around your home; remove all long grass, shrubs, logs, branches, twigs and needles within 10 metres of your home.
Store firewood a minimum of 10 metres from any structure.
Contact your utility company if trees or branches are not clear of power lines on your property.
Prune branches from the base of your trees to reduce the chances of a fire running up the tree.
Remove any dry and dead plant debris from under decks, in the gutters and accumulations against any structure.
Enclose combustible decks with non-combustible materials.
Always keep a watchful eye on fire pits and burn barrels when they are in use.
Plant fire resistant trees like aspen, birch or poplar instead of highly flammable varieties like spruce and pine.
Home Ignition Zone poster (4.4 MB)
---
Are you interested in learning more about FireSmart
Get a FireSmart assessment
Take a FireSmart Class
Visit the Community Calendar and search "FireSmart" to see when the next class is scheduled.
Book a FireSmart presentation
To learn more visit FireSmart Canada for more resources
---
How can let my neighbours know about FireSmart?
Have you considered leading your subdivision in local FireSmart activities? Learn more about becoming a FireSmart Community Champion. Contact Community Safety Education to learn more. 
Based on community need, a free workshop can be organized. The purpose of the workshop is to discuss how community members can work with their neighbours towards reducing their collective risk from wildfire and earn FireSmart community recognition status.
Take a walk along the FireSmart trail!
Interested in FireSmarting your property but not sure how it will look? The Strathcona Wilderness Centre (Baseline and Range Road 212, Ardrossan) has a 0.5 k.m. trail that shows what FireSmart treatments look like. Public are welcome to walk trail.
Last modified: May 24, 2023, 2:12 p.m.