Crime Prevention Through Environmental Design (CPTED) can reduce and deter community and property crime. CPTED ("sep-ted") uses various tools to make properties unwelcoming to criminals.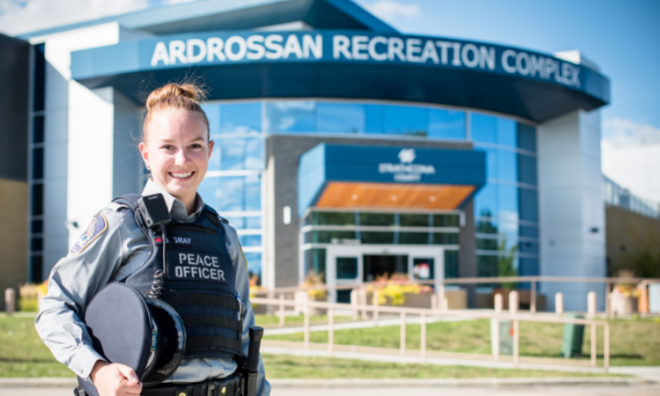 CPTED principles
The four CPTED principles are territoriality, access control, maintenance and surveillance. Territoriality means maintaining a property that shows it is cared for. Access control assesses how people enter and leave the property, and surveillance includes ways people can be seen or can see in any space on the property. Peace officers consider the principles and many other elements to help you make your property safer and less welcoming to crime and criminals.
How does it work?
CPTED is a proven method to reduce crime and fear of crime by changing a property's physical environment. Specially-trained Peace Officers visit your commercial property and conduct audits free of charge. Officers provide recommendations that can help improve the safety of your business, property, clients and staff. 
Who is eligible?
Currently, Enforcement Services is only offering CPTED audits to local Strathcona County businesses and continue to evaluate ways to expand these services to Strathcona County residents. If you are a Strathcona County business owner, please contact Enforcement Services to set up a date and time for your commercial property audit.
Residential security tips
lock your vehicles and don't leave valuables in there
lock your house, don't leave keys under mats or rocks
maintain door and window locks
a well maintained property shows you take pride in it and are actively aware
keep your doors locked, even if at home
have blinds or curtains to conceal in house valuables
keep bushes under 2 feet and trees cleared up to 6 feet to allow clear sight lines to observe activities on your property (this also helps eliminate hiding spots for criminals)
install motion lights to expose criminal activities
install a home security system that includes camera and doorbell video
build good relationships with your neighbours and watch out for each other
make it look like someone is always home
be wary of strangers at your door
have a safe to keep your important documents secure
have a wifi password 
have an emergency plan and a 72 hour kit, visit strathcona.ca/72hours for more preparedness information
Contact