Garbage and recycling
Paper bags for extra yard waste
Extra yard waste collection is November 2 to 6 on your regular collection day. Extra yard waste must be placed in paper yard waste bags or reusable containers for collection. Clear plastic bags will no longer be accepted.
strathcona.ca/yardwaste
Utilities customer billing
Strathcona County in-person services for Utilities are closed to the public. Phone and email support continue to be available strathcona.ca/covid19
For assistance:
Water and wastewater: 780-467-7785
Waste: 780-449-5514
Customer billing: 780-464-8273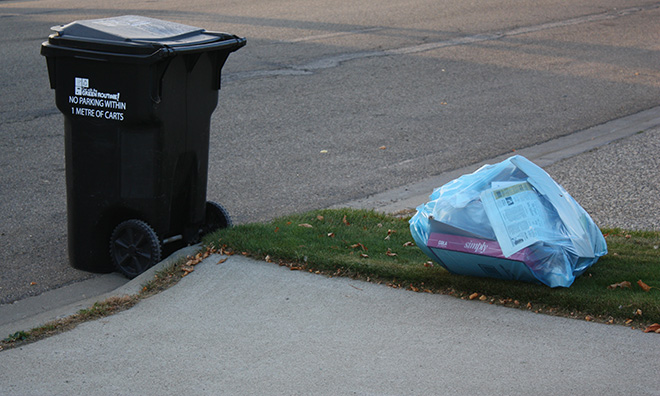 Our waste collection services include a curbside recycling program, organics collection and rollout collection carts. Through our Green Routine collection system, you can help us build and maintain a healthy community.
Recycling changes in effect
As of September 10, 2018, only blue bags with correctly sorted items will be picked up.
If your blue bag isn't picked up, don't worry! Look for the sticker: – it will note what needs to be removed or changed. Once you've done so, your bag can go out for collection the following week. Thank you for working with us over the past few months.  
We understand that change takes time. Learn more about the recycling changes and Green Routine 2.0.