Garbage and recycling
Utilities services remain operational
In light of recent direction received from public health authorities in Alberta on COVID-19 (novel Coronavirus), Strathcona County has implemented additional preventative measures to limit the spread of infection and, ultimately, to keep our employees, customers, community and visitors healthy and safe. strathcona.ca/covid19
Utilities will continue to operate essential services (water and sewer services, waste collection and the Community Energy System) during this time.
Please note: Our main office at 370 Streambank Avenue is closed to the public. Any questions can be directed to 780-467-7785 (water and wastewater) or 780-449-5514 (waste).
Customer billing will close to the public beginning at 8:30 a.m. on Friday, March 20. Call 780-464-8273 for assistance. Residents facing financial hardship can request a 3 month deferral of their utility bills. For more information strathcona.ca/bills.
If you require assistance with a sewer backup please be aware that staff may be wearing additional personal protective equipment for their safety. strathcona.ca/sewerbackup
Broadview Enviroservice Station is closed until further notice. www.strathcona.ca/broadview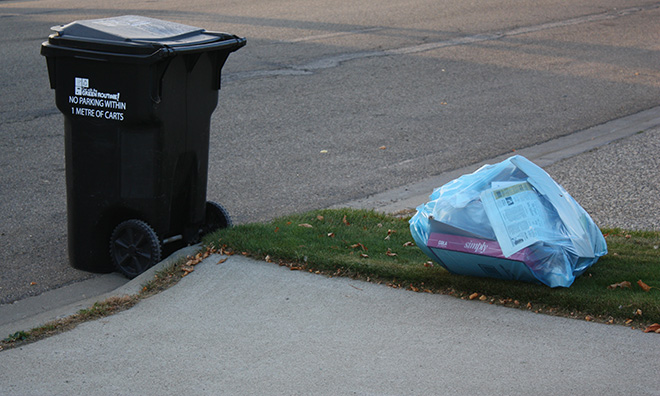 Our waste collection services include a curbside recycling program, organics collection and rollout collection carts. Through our Green Routine collection system, you can help us build and maintain a healthy community.
Recycling changes in effect
As of September 10, 2018, only blue bags with correctly sorted items will be picked up.
If your blue bag isn't picked up, don't worry! Look for the sticker: – it will note what needs to be removed or changed. Once you've done so, your bag can go out for collection the following week. Thank you for working with us over the past few months.  
We understand that change takes time. Learn more about the recycling changes and Green Routine 2.0.