Clear your sidewalk
Be a good neighbour and clear the snow around your property as soon as possible. Free rock chips are also available to help maintain safe sidewalks.
Under Bylaw 36-2013 (27.8 KB), residents have eight days from the start of a snowfall to clear the area adjacent to their property.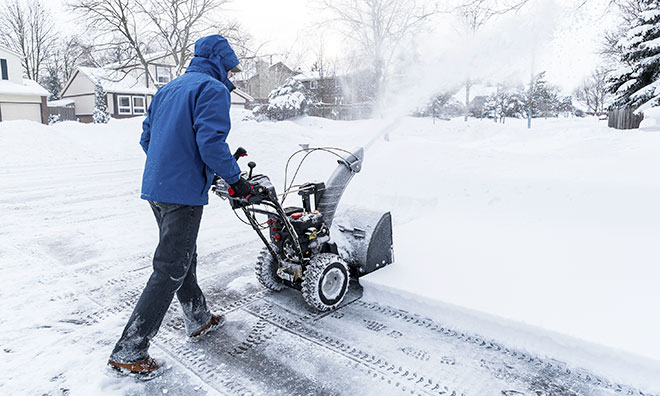 Sidewalk clearing tips
Avoid shoveling onto the road - Shovel the snow from your sidewalk and driveway onto your property and not onto the road. Shoveling snow onto the road can cause hazardous conditions.
Clear space around hydrants - If you have a fire hydrant near your home, please clear snow or ice at least 60 cm (2 ft) from around the hydrant to ensure Emergency Services' crews can find and access the hydrant as quickly as possible in an emergency.
Keep catch basins clear - Clearing snow and ice around catch basins in the gutter by your property will help the melt water runoff and reduce flooding problems on the road.
Manage ice - If ice has formed on your sidewalk, you can use rock chips. "Chip" boxes are available in all neighbourhoods. Click here to see our interactive Chip Box location map.
Ask for help - If you are unable to clear your sidewalks, please arrange for someone to clear them for you. Strathcona County has a program called Snow Busters that connects eligible residents with volunteers.
Sidewalk Clearing Bylaw
As per  Bylaw 36-2013 (27.8 KB) , if if snow is not cleared from sidewalks within the eight-day window, residents may receive a Snow Clearing Notice. This formal written warning gives the occupant or homeowner 24 hours to remove the snow and/or ice. If the notice requirements are not fulfilled, the County will have the sidewalk cleared at the owner's expense. If the invoice for this clearing is not paid, the amount will be added to the property taxes.
Neighbourhood chip boxes
Ever noticed this green box in your neighbourhood? These green bins are chip boxes, and they are located throughout Strathcona County. If ice has formed on your sidewalk, you can use rock chips from these bins to manage it.
Central chip box locations are also placed throughout Strathcona County. Please only use the central locations if the chip box closest to you is empty.
To report an empty chip box, please contact Transportation and Agriculture Services at 780-417-7100.
Click here to see our interactive Chip Box location map.
Interactive web maps are best viewed with Google Chrome. Click here to download a free copy of this web browser.
Chip box locations - Sherwood Park
County Connect
Ask it, report it or suggest it using County Connect