Parking bans during snow removal
Snow clearing update - December 8
Following 21 cm of snowfall in 48 hours, all rural and urban roads have been cleared. Parking restrictions are no longer in place in residential areas in Sherwood Park. County crews will continue to monitor and address icy conditions in all areas, as required.
Thank you to residents for supporting snow clearing efforts, and to our hard-working crews for maintaining safe roadways after such a significant snowfall.
When the County needs to clear the snow in Sherwood Park neighbourhoods, temporary parking restrictions are required. 
There are two types of parking bans: snow route parking bans and residential parking bans. You can sign up for snow route parking ban notifications through SC Alerts.
Snow route parking bans
Snow route parking bans affect collector roads, which are marked with snow route when declared signs year round. Collector roads are classified as Priority 3 under the  and are cleared when the snow accumulation reaches 15 to 21 centimetres.   
Parking bans will be declared a minimum of 24 hours before parking restrictions are enforced.
Remove vehicles from the street or park on residential streets without snow route signs. 
It may take up to eight days to clear the snow.
Residential street snow removal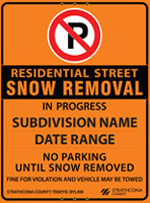 Residential streets are classified as Priority 4 roads and are cleared when the snow depth reaches 10 centimetres (compacted snow), or 7 centimetres (after January 1).  Compacted snow depth is measured weekly on 18 streets throughout Sherwood Park. The measurements of these 18 streets are then averaged to determine the need for snow removal.
Watch for Residential Street Snow Removal in progress posted in your neighbourhood.
Signs will include dates parking is not permitted.
It may take up to 10-12 days to remove the snow from all neighbourhoods in Sherwood Park.  
Follow the status of snow removal on the Residential Street online web map.
Avoid a tow! Sign up to stay in the know.
Sign up for Snow Route Parking ban notifications through Strathcona County Alerts (SC Alerts). Choose from phone calls, text messaging, and email notification.
You can also find out about parking bans through:
Frequently Asked Questions
Signing up for SC Alerts for snow route parking bans is completely optional. If you do not sign up for SC Alerts, it is very important that you stay informed about parking bans through other sources such as:

Digital signs at main entrances to Sherwood Park
For residential street parking bans, watch for the orange Residential Street Snow Removal in progress signs

SC Alerts is meant for emergent notifications only (other examples include water bans and tornado warnings). Snow Route parking bans are announced within 24 hours of snow removal, whereas residential parking bans can take up to 12 days to complete, making the notification much less "emergent" in nature.

You are free to park on your street after the snow has been windrowed and removed. Please do not park on the street next to windrows.

Vehicles are usually towed around the corner to a street where parking is permitted. If you cannot find your vehicle, please contact Enforcement Services at 780-449-0170.

Please, make arrangements to remove your vehicle from the road while you are out of town. If a parking ban is declared while you are away, your vehicle may be tagged and towed.
County Connect
Ask it, report it or suggest it using County Connect