Fire Inspectors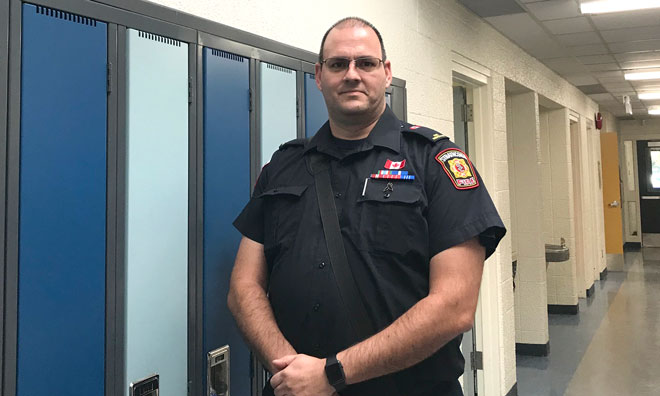 Fire Inspector Jason Coveney helping to keep our community safe
Keeping our community safe.
What is the best way to fight fires? Prevent them before they happen. When you think of Emergency Services or a fire department, you may think of the response side of things. But did you know Strathcona County has a team of Fire Inspectors that help to fight the fires before they even start? 
Learn more about what Fire Inspector Jason Coveney and the rest of the team do to help to make our community safer. 
Each year we inspect buildings such as schools, daycares, senior centres, restaurants, churches and community halls in the County to make sure they are following the legislation set out in the Safety Codes Act and the Alberta Fire Code. Each building, depending on what type of building it is and what materials are in the building or on-site, will have different codes that they need to follow.

When doing an inspection, we focus on education. If we see something that doesn't comply with the Act or Code, we work with the business owner to help them meet the standards. Some of the things we look at include fire extinguishers, use of extension cords, emergency lighting and that people are able to evacuate in the event of an emergency. Businesses can visit our website and download the full self-inspection checklist.

I really enjoy helping business owners and the community to work together to prevent incidents. Some people may think we are here to enforce the legislation but in reality, the legislation exists and business owners must comply even without Fire Inspectors. That is one of the reasons we put so much focus on education. We want our businesses to be safe and so do our residents.

In addition to building inspections, we also conduct burn pile inspections. In the rural area, residents may burn oversized brush piles that are inspected to ensure safe burning practices are in place.

The other part of our job is working with our Community Safety Educators to help deliver programs such as FireSmart to our residents. We assess residential properties in our rural areas and look for ways to help homeowners reduce the chance of wildfires on their property. We also get to do school presentations which are always fun.

I enjoy helping and interacting with people. Seeing a business owner take proactive steps to keep their business, employees, customers and the community safe is very rewarding for me. It is a highlight to see the results of the hard work they put in and how proud they are when they receive an inspection with no violations. Many times, they also tell me how they have changed or improved things at home to reduce the risk of fires.

As we are education focussed, the biggest challenge occurs when a business does not keep open lines of communication with our department resulting in additional inspections. Fire prevention is about preventing an incident before it happens. Unfortunately, fires do occur but being proactive and taking steps to reduce the risk of fire may also lessen the extent of damage and reduce loss to the owner.

If businesses want more information or to request an inspection contact Fire Prevention.