Counselling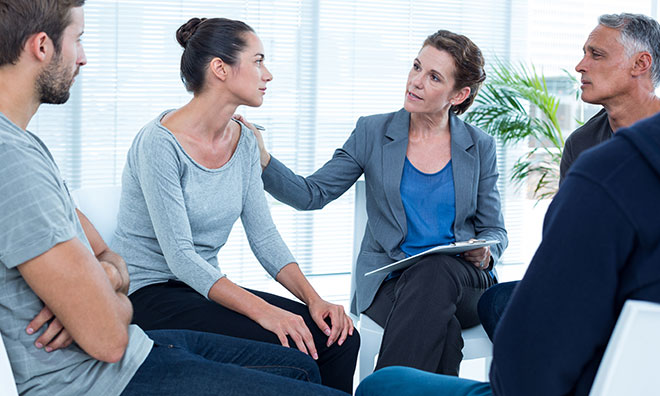 Family and Community Services is pleased to offer professional counselling sessions.
No appointment is needed 
"Pay what you can afford" service within the range of no cost to $90/session (2017 Counselling Fee Schedule)
Our team includes registered psychologists and social workers, as well as, credentialed volunteers and graduate students
Hours
PLEASE NOTE: On Tuesday, March 13th, we will have reduced counselling availability, due to staff training.You may experience longer wait times depending on volume. We resume regular availability on Wednesday, March 14th.
Monday

9 a.m. to 3 p.m.
Last session at 2 p.m. - please arrive by 2 p.m.

Tuesday

1 p.m. to 9 p.m. 
Last session at 8 p.m. - please arrive by 8 p.m.

Wednesday

8 a.m. to 12 Noon
Last session at 11 a.m. - please arrive by 11 a.m.

Thursday

1 p.m. to 9 p.m.
Last session at 8 p.m. - please arrive by 8 p.m.

Friday

9 a.m. to 3 p.m.
Last session at 2 p.m. - please arrive by 2 p.m.
Frequently Asked Questions
1. What is counselling?

Sometimes life is complicated. It takes courage to ask for help and guidance. Meeting with our professional counselling team, you can focus on an area of your life you would like to change. We also talk about your abilities and strengths. You will leave the session with some ideas or strategies to try out, and a deeper understanding about the changes that you want to make for yourself. As you work toward making change, you are welcome to come back until you feel you can cope on your own.

You can also use our counselling services as an opportunity to gain information, get advice and seek support.

2. What happens in the counselling session?

To create useful changes, our counsellors use a team approach; therefore you may have more than one counsellor in your session. Initially, you and your counsellor(s) will have an open conversation to properly understand what is important to you and your goals for the session.

This information comes from you - to the counsellors. And your goal can change from one session to the next or stay the same goal for a number of sessions; it is up to you to choose what is best at this moment in time.

After 30 to 50 minutes, the counsellor(s) will take a quick break to consult with the counselling team and together create a written plan of action that recognizes and builds upon your strengths, ideas and abilities. During this break you may also be asked to continue to reflect on the conversation you had and come up with more possible solutions. After a short while, the counsellor(s) will rejoin you in the counselling room to share strengths and provide suggestions. These ideas are shared both verbally and in writing.

You will walk away with an action plan tailored for you. Sessions take between 60-90 minutes. Time expectations will be discussed and agreed upon when you first meet with the counsellor(s).

3. Is counselling confidential?

Yes. Your information is kept confidential to the counselling team and is only accessed on a need to know basis. We strictly adhere to the Freedom of Information and Privacy Act (FOIP).

There may be times where the counsellor is required, by law, to include external resources to help maintain the safety of either yourself or others you may know. Reporting to appropriate authorities if there is identified abuse/harm to a child under the age of 18 or if there is a reason to believe that a person's life may be in jeopardy is required by law. In addition our counsellors are legally obligated to break confidentiality if court ordered by a judge to appear in court through a subpoena. If you have questions or concerns about these limits to confidentiality, please bring them forward to your counsellor(s).

Information from your last session, confidential to the counselling team, assists your counsellors to continue to respond to your situation. If you worry about starting 'from the beginning' or retelling your story, you can be assured that walk-in counselling is designed to help clients identify their immediate needs in a 'here and now' format. Our trained counsellors can focus on your most important concern, and what has happened for you since your previous visit to counselling.

4. Why did Family and Community Services (FCS) move to walk-in counselling?

People struggling with every day challenges want useful strategies to resolve their difficulties sooner than later. Now people can come in any weekday without an appointment. A variety of times are offered including daytime and evening. In the past, individuals frequently had experienced a delay, sometimes weeks, before an appointment became available. This is no longer the case. By moving to walk-in counselling, FCS offers professional, confidential, affordable, accessible and timely counselling services.

5. Why should I come in, and do I need to be in crisis?

People come to counselling for a wide range of reasons. We all experience difficulties from time to time. You do not need to be in a crisis to come in - some individuals come in before they feel their life is 'out of control' and are overwhelmed. However, if you are experiencing a high level of distress we encourage you to visit us.

Frequent reasons people choose to meet with the counselling team:

I have something I am trying to figure out.
Lots of people are giving me advice, and I trying to sort out what to do.
I really need someone to talk right away about this.
I am not sure yet about the next step or steps to take to get back on track.
I wish I knew more about ….
How can I cope better with my situation?
I wonder if counselling would even be useful for me? (Best way to know is to give it a try!)
I am worried about a friend or family member and I want to know how I can help them.

6. Do you offer counselling for couples, family or for grief?

Yes, you are welcome to come in for grief counselling, couples counselling and family counselling, as well as, other areas of challenge.

7. Do you offer counselling to children?

Yes, our counsellors do meet with children over the age of 6 years and involve their parents in the co-creation and implementation of action plans. As children get older, some youth may be involved in counselling without their parents participation. The age and maturity of the youth plays a significant role in determining how we offer our counselling services to children. Come in and let's talk. Meeting with a parent is our preferred way to start.

8. What will I leave a counselling session with?

You will leave your counselling visit with an action plan. This plan will have at least one idea that we hope will be useful in helping you meet your identified goal. You may also gain information about resources including apps, websites, workshops, counselling groups, and more.

9. Can I book an appointment?

No. Instead, you can access counselling every weekday, and some evenings, when you want to make a change in your life.

10. What are your hours for counselling?

Mondays and Fridays from 9 a.m. until 3 p.m.……Arrive before 2 p.m.
Tuesdays and Thursdays from 1 p.m. until 9 p.m.……Arrive before 8 p.m.
Wednesdays from 8 a.m. until 12 Noon……Arrive before 11 a.m.

To provide enough time for the counselling session, participants must arrive at least ONE HOUR before walk-in counselling closes for the day.

11. What can I expect when I first arrive?

When you arrive at the office, let our front office team know that you are here for counselling. You will be asked to complete a counselling questionnaire designed to learn about you and your goals. The counseling team then reviews your information - this typically takes about 15 minutes. A counsellor will then invite you into a counselling space for your session.

12. How long should I plan to be at my counselling session?

It is best to plan to be here between 1.5 to 2 hrs, although you may be here less or more time - much like a walk-in medical clinic it is difficult to estimate.

Much like a walk-in medical clinic it will depend on how many people arrive before you, the complexity of situations, and the number of available counselling teams. On average people meet with the counselling team between 60 to 90 minutes, but not always. There is a bit of paperwork to do first and a counselling team pre-meeting that typically takes 15-30 minutes.

Your time is valuable and we are committed to meeting with you as quickly as we can. At the same time, we want to provide you with the most useful service so we ask you respect that counselling times vary and are difficult to estimate in advance of the counselling team meeting with you.

13. I was here first. Why might someone who arrived after me be seen before me?

Occasionally, a person with an urgent situation (as assessed by the counselling team) may arrive after you and require an immediate response. In other cases, the counselling team member that is most able to respond to your issue may be busy with someone else when you arrive. Our goal is to give you the most suitable counselling team for your situation.

14. Who are the counsellors?

The counselling staff are professionally qualified and trained to provide counselling services. Our team includes Psychologists, Social Workers, Certified Counsellors and graduate level counselling students. In order to address what is important to you and what result or outcome you would like, our counsellors work together as your team. The team's purpose is to share ideas to co-create a plan with you and, if needed, facilitate your connection to other resources that will help you reach your goal. The counselling team approach helps achieve results for participants in a way that is collaborative, responsive and effective.

15. What paperwork do I need to complete?

When you arrive, our front office team will welcome you and explain what paperwork is needed. This includes consent forms and participant information. Please take time to answer all our questions, as they are important for us to start understanding your need(s). The counselling team uses your answers to determine who is best suited to work with you. That is, who might be best trained to assist you in finding useful strategies for change.

At the end of your session you will be asked to complete a written feedback form about the session. Your feedback is important to us, as it helps us to understand what worked in the session and what might be the focus of the next session. It also helps us make adjustments to our counselling services to ensure quality and successful outcomes.

16. How much does counselling cost?

The cost of our counselling services is based on what you can afford to pay. It is your choice how much you pay for the counselling and you decide at the end of your session. Residents seeking guidance about fees may ask their counsellor for support. Pay what you can afford is not on a sliding scale.

17. Can I claim my session through my extended health plan or employee assistance plan?

If your plan specifically requires a Psychologist or Masters in Social Work please let us know. Each participant is given a receipt at the end of the session with information necessary for billing purposes.

18. What kind of counselling is provided?

Our counselling objective is to provide effective, useful, affordable counselling in a timely way. Our mandate is prevention and early intervention. Whether coping with a stressful situation, looking for direction, or wanting understanding, our counsellors use a strength-based, action oriented approach to explore solutions with you. You can also use counselling as an opportunity to gain information, get advice and seek support without committing to ongoing counselling.

19. Where is counselling located?

Strathcona County Family and Community Services is located on the second floor of the Community Center next to the Library, #200, 501 Festival Avenue, Sherwood Park.

20. Are counselling services offered in rural Strathcona County?

Not yet. This is something we would like to explore if there is a sufficient need. If you are interested in receiving counselling in a rural location please email us at familyandcommunity@strathcona.ca or call our office (780-464-4044).

21. Can I visit counselling more than once?

Yes. You are welcome to return for as many times as necessary to continue to move forward on your goal(s).

22. Do I see the same counsellor each time I come?

Not necessarily. We thought this may be problematic, however, feedback from participants is showing this is not the case.

Our counselling service uses a team approach and the counselling team you work with each session depends on your situation, the expertise of the counsellors to respond to your situation, and the availability of team members. It is possible that you will be seen by someone was on your counselling team previously, although perhaps not in the counselling room with you. At another time, you may be seen by people you have not seen previously. Research and evidence strongly indicates that successful changes are not dependent upon seeing the same counsellor each time.

Information from your last session assists your counsellors to continue to respond to your situation. No need to worry about 'starting from the beginning' or retelling your story because we have access to detailed notes from your last visit.

23. What about coming to counselling as a support person?

Our counsellors encourage people's supporters, loved ones and family to consider attending counselling sessions. Due to our team of counsellors, we can often provide more than one session at a time, so everyone can gain information, learn coping tools and be provided with support to help each other.
Volunteering
If you are a credentialed counsellor (certified counsellor or masters level social worker) and are interested in becoming a volunteer, please contact us. Practicum experience is also available for counselling and social work practicum students.
For more information: