Thank you to everyone who contributed to Stuff-A-Bus on Saturday, November 27!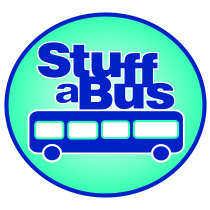 December 1, 2021 - Stuff-A-Bus 2021 grand totals are in! This years event supported our local food bank with 13,771 pounds of donations.
Save-On-Foods Baseline collected 4,903 lbs
Save-On-Foods Summerwood collected 4,753 lbs
Save-On-Foods Wye Road collected 4,054 lbs
November 28, 2021 - Stuff-A-Bus was great success this past Saturday. Even though we don't have the final numbers yet, we know it was a success by how many of our residents made it out and contributed to our local food bank. Today, their shelves are brimming over with donations provided by all of you and that means tomorrow someone else will have a meal because you cared enough to contribute. Thank you! Thank you! Thank you!
Thank you for joining us and supporting our local Strathcona Food Bank!
To put your donations into perspective:
A $5 prepared food pack is great - it can provide six meals for one person.
One bag of well chosen dry and canned goods can feed a couple for two days.
A moderately full grocery cart can feed a family of four for a full week!
Most needed items:
Breakfasts:

Hot cereals
Cold cereals
Pancake mix
Peanut butter
Jams 
Jellies

Desserts:

Cakes mixes
Pie fillings
Puddings
Jello
Fruit cups
Cookies

Side dishes:

Side kicks
Rice
Instant potatoes
Hamburger helpers

Beans: 

Kidney
Lentils 
Pork and beans

 

Meat

Ham, 
Tuna  
Salmon
Chili 
Stew

 

Soup: 

Chicken
Mushroom
Chunky soups

 

Canned vegetables: 

Yellow beans 
Green beans
Mixed vegetables
Peas,
Carrots, 
Corn  
Tomatoes

Pasta

Spaghetti
Any variety of noodle
Tomato sauces
Tomato paste

Staples:

Coffee
Tea
Juices, any size
Sugar
Flour
Condiments
Snack crackers
Partners: