Stuff-A-Bus
2019 Stuff-A-Bus
We collected 5,904.3kg of food and $1185 in cash donations this year!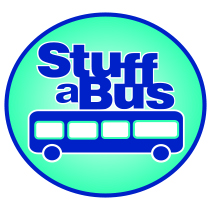 Thank you to everyone who came out and donated to the 24th annual Stuff-A-Bus campaign. Your donation will make a significant difference to those in need in our community.
Stuff-A-Bus is the Strathcona Food Bank's largest food collection opportunity of the year, and all donations made in our community stay in our community.
To put your donations into perspective:
A $5 prepared food pack is great - it can provide six meals for one person.
One bag of well chosen dry and canned goods can feed a couple for two days.
A moderately full grocery cart can feed a family of four for a full week!
Breakfasts:

Hot cereals
Cold cereals
Pancake mix
Peanut butter
Jams 
Jellies

Desserts:

Cakes mixes
Pie fillings
Puddings
Jello
Fruit cups
Cookies

Side dishes:

Side kicks
Rice
Instant potatoes
Hamburger helpers

Beans: 

Kidney
Lentils 
Pork and beans

 

Meat

Ham, 
Tuna  
Salmon
Chili 
Stew

 

Soup: 

Chicken
Mushroom
Chunky soups

 

Canned vegetables: 

Yellow beans 
Green beans
Mixed vegetables
Peas,
Carrots, 
Corn  
Tomatoes

Pasta

Spaghetti
Any variety of noodle
Tomato sauces
Tomato paste

Staples:

Coffee
Tea
Juices, any size
Sugar
Flour
Condiments
Snack crackers
Partners: