Solutions Navigation: finding the right support services for you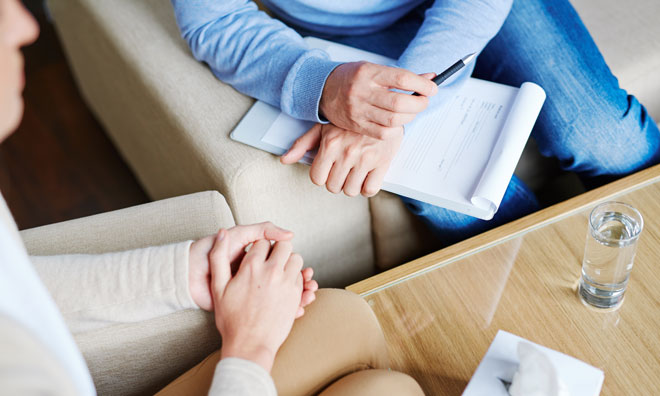 Family and Community Services is open at the Community Centre
Family and Community Services, counselling and support services has resumed at the Community Centre (#200, 501 Festival Avenue).
Public parking is limited in the area and public transit is recommended if possible. Limited two-hour street parking in designated spaces is available on Festival Lane, Festival Way and Festival Avenue, and outdoor parking lots near the Community Centre are available at no charge.
HOURS
MONDAY and FRIDAY
8:30 a.m. to 4:30 p.m. (Please arrive 90 minutes before closing)
TUESDAY, WEDNESDAY and THURSDAY
8:30 a.m. to 8 p.m. (Please arrive 90 minutes before closing)
Need help now? Crisis support numbers
Providing you the support you need
We are here to listen. We are here to work with you.
The navigation program supports individuals and families in getting the services and support they need. Our team, called navigators, work with you to achieve your goals by developing an action plan, accessing community resources and finding a solution that works for you. 
People come in for support and information about a variety of topics:
Housing
Income-based programs
Finances
Transit and recreation subsidies
Parenting
Relationships
Filling out forms and applications
Support is free and available to everyone including youth, seniors and families, no matter their age or financial situation. Book an appointment or walk in.
New Hours
* Please arrive at least one (1) hour prior to office closing to see a Solutions Navigator.
| | |
| --- | --- |
| Monday | 8:30 a.m. to 4:30 p.m. *  |
| Tuesday | 8:30 a.m. to 8 p.m.* |
| Wednesday | 8:30 a.m. to 8 p.m.* |
| Thursday | 8:30 a.m. to 8 p.m.* |
| Friday | 8:30 a.m. to 4:30 p.m.* |
FAQs
The session depends on your needs. Sometimes you may need someone to walk you through how to access community resources. Other times, you may need support developing an action plan or finding your way through the social support system. Whatever you need, we are here to listen and work with you to find the right referral, strategy or support.

Yes. Your information is kept confidential to the navigation team and is only accessed on a need-to-know basis. We adhere to the Freedom of Information and Protection of Privacy Act.

It is required by law to report identified abuse/harm to a child under the age of 18 or if there is a reason to believe that a person's life may be in jeopardy. In addition, our counsellors are legally obligated to break confidentiality if court-ordered by a judge to appear in court through a subpoena. If you have questions or concerns about these limits to confidentiality, please bring them forward to your counsellor(s).

Residents who want support want to resolve their situation sooner rather than later. Now, you can walk in or call five days a week without an appointment. In the past, some individuals may not have met the criteria for some of our programs. Access to a navigator is available to anyone experiencing challenges, including seniors, youth, families and adults, regardless of age or financial situation.

You will leave your appointment with an action plan. This will help you to take the next steps in achieving your goal. The action plan may provide information including community supports, workshops, programs and how to take your next steps.

Yes, you can book an appointment by phoning 780-464-4044. You can also walk in without booking.

You can come in as often as you need. If you developed an action plan during a visit, you may want to continue working toward your goals. Or, you may want to work on other goals.

We use a team approach so the person you met last time may not be who you meet with the next time. If you developed an action plan during a previous session, feel free to bring it with you. We keep a copy of your action plan and our team approach helps our navigators understand the challenges you are facing and your current goals.

Navigation supports you in reaching your goals through community and outreach support and services like subsidies and income-based programs. Counselling focuses primarily on your emotional and mental health and well-being. Counselling and navigation work well together, as someone may be dealing with emotional issues that stem from a systems barrier, so each worker supports you the best we can.