Snowmelt facility
Snowmelt facility hours
The snowmelt facility is currently closed.
Updated: March 25, 2020
The Strathcona County Snowmelt Facility is located on the south side of Highway 16 and west of Highway 824. 
Noise levels will be monitored during operating hours and permit holders are reminded that tailgate banging is not permitted.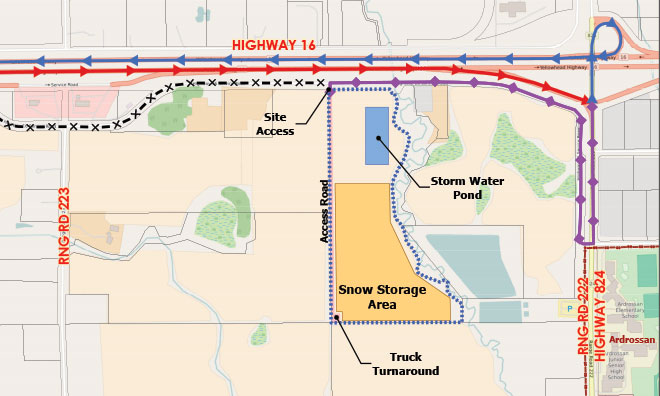 Frequently Asked Questions
Once ground conditions allow, the snowmelt facility will be open 24 hours, seven days a week.

Permit holders (usually contractors) who have purchased a Snowmelt Facility permit will have access to the facility during operating hours. If you do not have a permit, you will not be granted access to the facility.

To purchase a Snowmelt Facility pass, please visit our office located at 370 Streambank Avenue during business hours of 8:30 a.m. – 4:30 p.m. (closed from 12:00 p.m. – 1 p.m.). Permits are $100 per pass.

Trucks will enter and exit the facility using Highway 16, Secondary Highway 824 and the existing service roads. If trucks use alternate routes, such as Range Road 223 or 224, they will be fined and may have their permits revoked.

Several strategies will be used to minimize noise from the equipment.

A two-meter berm (raised area) will be constructed surrounding the entire site along with landscaping to minimize noise levels.
Trucks and bulldozers will only operate at night following periods of significant snowfall when snow needs to be removed from roads and parking lots. During regular snowfall, trucks and equipment will only operate during daytime hours.
The site will be monitored 24/7 during winter operations to monitor tailgate banging and off-route hauling.
Any permit holders that are found to be in violation of the posted rules will have their permits revoked.

Operations at the facility will be adjusted to avoid hauling during peak school traffic to avoid congestion and potential conflicts.

Strathcona County is implementing several strategies to protect the environment from pollutants.

To protect groundwater and soil from contaminants, a compacted clay liner will be constructed where the snow melts.
The settling pond will have a concrete bottom and plastic liner on the sides.
The melt water will also pass through an oil and grit separator prior to being discharged into the creek.
A stormwater management plan and flood plain analysis have been developed for the site.
The discharge into the creek will not significantly increase the water levels in the creek.
Meltwater will be tested prior to discharge.
County Connect
Ask it, report it or suggest it using County Connect