Green Routine - waste services
Summer cart audits
The Green Routine street team is performing our annual cart audits throughout the County.

More info
Last Modified: July 27, 2021, 10:07 a.m.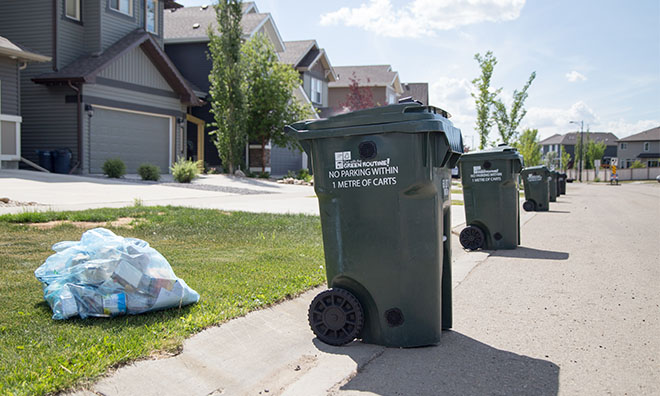 Green Routine questions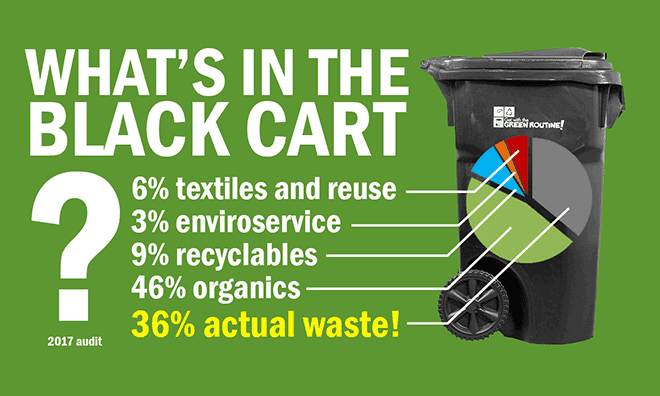 Reduce and reuse before you recycle
It's important to start rethinking your Green Routine. Did you know the three R's of recycling (reduce, reuse and recycle) are in order of priority? Before you recycle, try to reduce and reuse first. Here are some simple steps you can take to cut back on waste and your use of plastics:
Reduce
Reduce your use of single-serve containers (e.g.: items such as plastic forks, straws and take-out containers)
Buy products with less packaging
Bring cloth bags with you when you shop for groceries
Plan out your meals. Try this simple meal planning worksheet

(829.7 KB)
Reuse
Take reusable coffee mugs and water bottles
Pack waste-free lunches. For more ideas click here.
Buy items second-hand
Fix what you can before replacing items
Donate items you no longer use to charity
Recycle
Keep recycling to ensure valuable materials are being collected
Follow the most current recycling guidelines to ensure raw materials are going to the right place and being processed into something new 
Global changes to recycling
There's been a global change to recycling
How we recycle in Strathcona County is part of a global recycling system. Recently, this system changed. In January 2018, China started placing restrictions on the recycling materials it collects from North America, which is limiting the available markets for some recycling materials. With the restrictions, North American processing companies and municipalities must produce a clean, uniform stream of recycling. This also means the materials we put out for recycling must be well cleaned and free of contamination.

It's time for Green Routine 2.0
Global changes have an impact on how Strathcona County, and all municipalities in Alberta and across North America, are recycling.  The list of items we can put in our blue bags has changed. This is because we can't risk entire batches of good recycling material going to landfill because of contamination. It is not sustainable to have the processor try to sort these items if they remain in our blue bags. Their technology and staff cannot catch every piece of contaminated material or small bit of plastic film.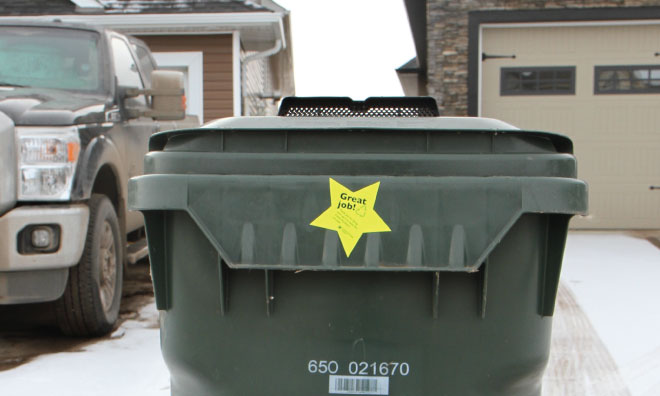 Cart audits
How it works
On collection day the street team collect data points at each audited property, which includes flipping cart lids and checking blue bags that are set out for collection. They do not sort or take items out of the carts and pictures may be taken if contamination is an issue in one of the streams. They check:
That the carts and recycling are appropriately placed and spaced;

That materials are sorted properly and free of contamination to maximize diversion from landfill;

Whether the cart is broken and needs replacement;

For participation and set out rates, including number and types of containers/bags; and

Whether carts are overfilled.
The collection of this data allows us to:
Note necessary cart replacements;

Make collection more efficient as we can educate residents about spacing corrections and the proper preparation of materials;

Address common contamination materials through increased education;

Recognize households for their efforts; and

Reduce contamination and make sure we do not have to redirect materials to the landfill or pay extra processing costs for loads that are highly contaminated.
Audits allow us to measure the effectiveness of our program and help us target our marketing and education efforts. If you see our audit team out and about on the street, feel free to say hi or ask them about the program, they're here to help! If you have concerns or complaints please email us at greenroutine@strathcona.ca.

Questions?
Utilities
Phone: 780-449-5514
greenroutine@strathcona.ca