Green Routine - waste services
Utilities customer billing
Strathcona County in-person services for Utilities are closed to the public. Phone and email support continue to be available strathcona.ca/covid19
For assistance:
Water and wastewater: 780-467-7785
Waste: 780-449-5514
Customer billing: 780-464-8273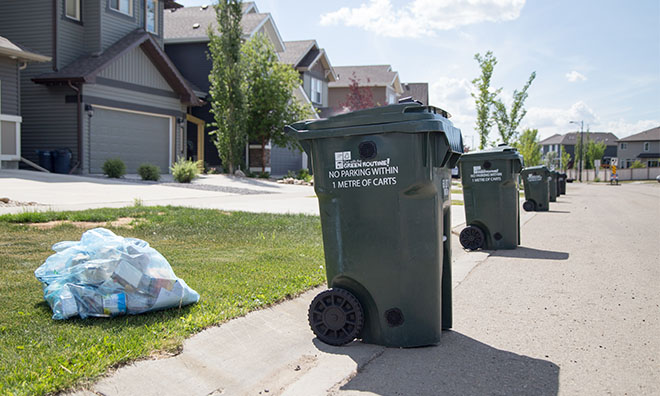 Covid 19 - waste FAQs
We are not planning on altering our curbside collection schedule at this time, but we are closely monitoring the situation.

If you see someone dumping waste you can call RCMP and Enforcement Services at 780-449-0170 to report it. 

Waste Management Bylaw 39-2014 imposes a fine for people caught dumping waste.  
Green Routine FAQs
Sorting materials is a major step in reducing the amount of material Strathcona County sends to the landfill. The Green Routine has the potential to divert up to 89 per cent of waste.

Waste now has to travel further away, meaning higher transportation costs. By moving to a system that recycles and composts a large amount of waste, we are able to minimize rate increases as transportation costs rise.

By having you separate organics, waste, and recycling we are able to reduce our waste collection service fees, saving money for customers and the county.

Households are asked to sort their waste into three streams because the contents go to three different places.

Organics materials are sent to a regional organics processing plant. The organics will decompose and, in time, become nutrient-rich soil that will be used in landscaping and land reclamation projects.
Recyclables are sent to a local material recovery facility. Recyclables are broken down to make new material or products. For example, some plastics are used to make fleece and paper is used to make new paper products, such as egg cartons.
Waste is sent to the Roseridge landfill.

We do not recommend using your garburator.

Kitchen scraps disposed using a garburator end up at the wastewater treatment plant where they are removed and sent to the landfill because the material is no longer suitable for composting. This not only increases the amount of materials being sent to the landfill but also increases wastewater treatment costs.
Over time organic material will collect in the pipes and lead to sewer backups.
Garburators use extra water, so you will be paying for the extra water you use to flush the organic material down the sink and the extra wastewater that is leaving your house.

Here are some tips for preventing odours:

Store your carts in a shaded or covered area
Layer your organics in the cart. Place a layer of paper or newspaper on the bottom, then alternate layers between wet waste and dry waste.
Add a small amount of baking soda, salt, vinegar or powdered detergent (without bleach) around the lips, vents and at the bottom of the cart
Wrap wet or smelly organics in newspaper, paper bags or soiled boxes
Use a compostable bag for organics. Make sure the bag is compostable (not biodegradable or plastic)
Rinse your cart regularly during summer months
Put your organics cart out on its proper collection day even if you only have a small amount
Use a regular black garbage bag in the waste cart

There are several options for managing your grass clippings:

Your best option is to grasscycle or mulch. Grasscycling is a natural and easy process that saves time and money. Simply leave the clippings on your lawn as you mow. They will quickly decompose, usually within three days, and act as a natural fertilizer to the soil. They will also help retain moisture in your lawn, so you don't have to water as often.
Another option is to put grass clippings into a backyard composter. Dry clippings briefly before adding them to the compost pile. Alternate layers of grass clippings with leaves or other organic materials.
You may also bring clippings to the Broadview Enviroservice Station.

The only bag required for the program is the blue bag used for recycling.

Optional bags include:

You can put waste materials into regular green or black garbage bags.

Organics can also be placed into compostable bags, which are made out of a vegetable-based product that breaks down during the composting process. Plastic or biodegradable bags are not accepted as they do not break down and will contaminate the composting process. Contaminants increase processing costs.

You can find these bags at most grocery or home improvement stores.

We encourage you to continue your backyard composting. However, it is important to know that the green organics cart can take many materials that cannot be handled by the typical backyard composter including:

baked goods and bread
cheese and dairy products
fish and fish remains
grease
meat products and bones
oily, fatty foods
sauces and spreads
soiled paper
toothpicks and popsicle sticks
paper napkins, plates and cups
pasta
soiled tissue
hair
rice
soiled pizza boxes

These materials will not properly compost in a backyard pile and some can even attract unwanted pests.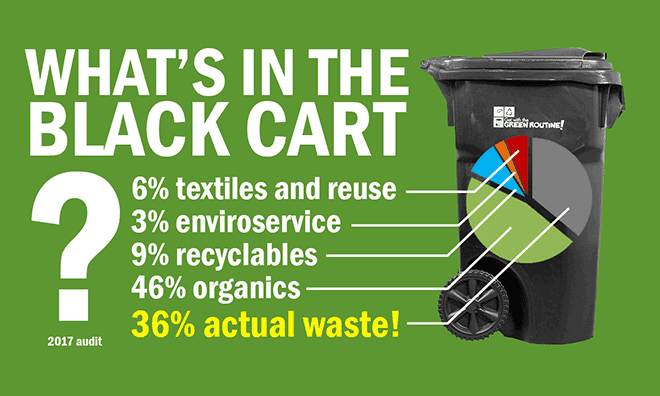 Reduce and reuse before you recycle
It's important to start rethinking your Green Routine. Did you know the three R's of recycling (reduce, reuse and recycle) are in order of priority? Before you recycle, try to reduce and reuse first. Here are some simple steps you can take to cut back on waste and your use of plastics:
Reduce
Reduce your use of single-serve containers (e.g.: items such as plastic forks, straws and take-out containers)
Buy products with less packaging
Bring cloth bags with you when you shop for groceries
Plan out your meals. Try this simple meal planning worksheet

(829.7 KB)
Reuse
Take reusable coffee mugs and water bottles
Pack waste-free lunches. For more ideas click here.
Buy items second-hand
Fix what you can before replacing items
Donate items you no longer use to charity
Recycle
Keep recycling to ensure valuable materials are being collected
Follow the most current recycling guidelines to ensure raw materials are going to the right place and being processed into something new 

Global changes to recycling
There's been a global change to recycling
How we recycle in Strathcona County is part of a global recycling system. Recently, this system changed. In January 2018, China started placing restrictions on the recycling materials it collects from North America, which is limiting the available markets for some recycling materials. With the restrictions, North American processing companies and municipalities must produce a clean, uniform stream of recycling. This also means the materials we put out for recycling must be well cleaned and free of contamination.

It's time for Green Routine 2.0
Global changes have an impact on how Strathcona County, and all municipalities in Alberta and across North America, are recycling.  The list of items we can put in our blue bags has changed. This is because we can't risk entire batches of good recycling material going to landfill because of contamination. It is not sustainable to have the processor try to sort these items if they remain in our blue bags. Their technology and staff cannot catch every piece of contaminated material or small bit of plastic film. 

Questions?
Utilities
Phone: 780-449-5514
greenroutine@strathcona.ca