Green Routine - waste services
2018 Waste Collection Handbook (2.5 MB)
See our Green Routine waste services quick guide (6.2 MB)
Green Routine overview
What is the Green Routine?
The Green Routine is what we call our weekly waste collection services. Waste services include a curbside recycling program, organics collection and roll-out collection carts.
This system asks residents to sort their waste into organics, waste and recycling.
Organics

Organics go into your green roll-out cart. Use the small covered pail (green catcher) to collect organics in your kitchen, then transfer them to the large cart for collection.
What goes in the green cart?
Food scraps, soiled paper, coffee filters, plant materials, twigs, kitchen scraps, grass clippings
How much can I put out for collection?
All organics must fit inside the cart with the lid closed. Overfilled carts or materials left outside the cart will not be collected.
How often do I put my organics out for pickup?
Every other week (alternated with waste)
From mid-June to mid-September organics is collected every week
Waste
Waste goes into your black roll-out cart.
What goes in the black cart?
Aluminum foil, cleaning wipes, items made of two or more materials that cannot be taken apart (i.e. chip bags, granola bar wrappers)
How much can I put out for collection?
All waste must fit inside the cart with the lid closed. Overfilled carts or materials left outside the cart will not be collected.
How often can I put my waste out for pickup?
Every other week (alternated with organics)
Recycling
Recycling goes into clear blue plastic bags only. Bags can be purchased at most grocery or home improvement stores.

What goes into recycling?

All items must be clean and free of food, liquids and dirt.

Clean items accepted:
Hard plastic containers or bottles. No lids or caps. (e.g. shampoo, detergent or condiment bottles; margarine or large yogurt containers; ice cream pails)
Aluminum and tin cans, pies plates and containers (clean and in original shape)
Wrapping paper (no foil); greeting cards (decorations removed)
Office paper, envelopes, craft paper
Magazines, flyers, newspaper, catalogues
Books with front and back covers removed
Cardboard, flattened (60 cm by 1 m or smaller)
Boxboard (e.g. cereal, cracker, cookie boxes)
How much can I put out for collection?
As many bags as you need. There is no limit.
How often do I put out my recycling for pickup?
Every week.
Green Routine FAQs
Recycling changes in the County
Green Routine 2.0 – A rethink on recycling
Due to global recycling changes, some of the materials you discard are no longer recyclable. This changes what is accepted for recycling in your blue bag and at the recycle stations. Check out the tips and videos below.
 
Top three tips for blue bag sorting
1. Plastic films and plastic flexible packaging come OUT. Remove these materials from your blue bag, including lids and caps. They need to go in your black waste cart. Reuse where possible.
2. Styrofoam and glass come OUT. Remove these materials from your blue bag. You can take large Styrofoam packaging and glass (excluding mirrors and tempered glass) to the Broadview Enviroservice Station (101 Broadview Road, Sherwood Park).
3. Keep your blue bags cleaner than ever before. Clean means taking extra care to ensure items in your blue bag are recyclable and free of foods, liquids and dirt.
There's a sticker on my bag!
If your blue bag isn't picked up, don't worry. Look for the sticker - it will note what needs to be removed or changed. Once you've done so, your bag can go out for collection the following week.   
What items go where?
Residents are responsible for properly disposing of materials they no longer need. Check out our waste sorting tools to help you with your waste sorting, including the Waste Wizard, a printable A to Z list of items, the Green Routine waste services guide, a waste sorting game, and a Green Routine waste collection app. 
Making space in the black cart
While some items can no longer go in your blue bag, there are ways to make sure you've got plenty of room in your black cart.
Try to maximize space in your black cart by ensuring everything that is an organic material or an acceptable blue bag item is placed in the right spot.
About 80% of blue bag materials are still recyclable.  The majority of what you need to pull out is plastic films and flexible packaging, which is light weight and easily compactable.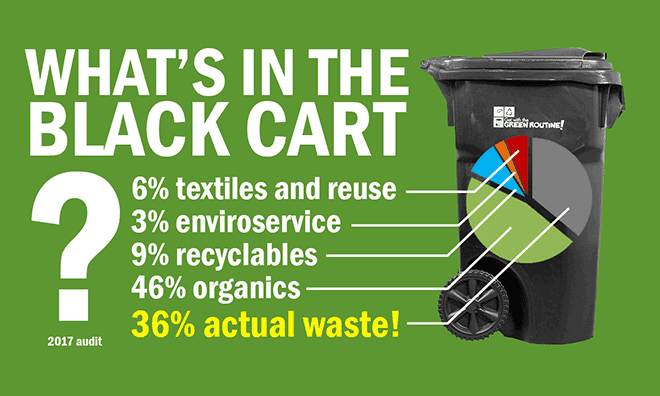 Blue bag changes - FAQs
Keeping our blue bags clean
Adapting to global change
Waste, your black carts and the landfill
Reduce and reuse before you recycle
It's important to start rethinking your Green Routine. Did you know the three R's of recycling (reduce, reuse and recycle) are in order of priority? Before you recycle, try to reduce and reuse first. Here are some simple steps you can take to cut back on waste and your use of plastics:
Reduce
Reduce your use of single-serve containers (e.g.: items such as plastic forks, straws and take-out containers)
Buy products with less packaging
Bring cloth bags with you when you shop for groceries
Plan out your meals. Try this simple worksheet.   Meal planning worksheet

(829.7 KB)
Reuse
Take reusable coffee mugs and water bottles
Pack waste-free lunches. For more ideas click here.
Buy items second-hand
Fix what you can before replacing items
Donate items you no longer use to charity
Recycle
Keep recycling to ensure valuable materials are being collected
Follow the most current recycling guidelines to ensure raw materials are going to the right place and being processed into something new 

Global changes to recycling
There's been a global change to recycling
How we recycle in Strathcona County is part of a global recycling system. Recently, this system changed. In January 2018, China started placing restrictions on the recycling materials it collects from North America, which is limiting the available markets for some recycling materials. With the restrictions, North American processing companies and municipalities must produce a clean, uniform stream of recycling. This also means the materials we put out for recycling must be well cleaned and free of contamination.

It's time for Green Routine 2.0
Global changes have an impact on how Strathcona County, and all municipalities in Alberta and across North America, are recycling.  The list of items we can put in our blue bags has changed. This is because we can't risk entire batches of good recycling material going to landfill because of contamination. It is not sustainable to have the processor try to sort these items if they remain in our blue bags. Their technology and staff cannot catch every piece of contaminated material or small bit of plastic film. 

Questions?
Utilities
Phone: 780-449-5514
greenroutine@strathcona.ca