Weekly waste collection in multi-family complexes may differ between complexes. Some complexes have communal collection areas while other complexes have their residents putting their waste at the curb each week.
Complexes that receive full size waste carts (black) and smaller green organic carts:
Axxess @ Summerwood
Charlton Court
Charlton Greens
Clarkdale Shores on the Pond
Clover Leaf Point Condos
Corner Stone Village
Cravenbrook
Creekside Village
Crystal Estates
Excalibur Estates
Forest Grove Condos
Foxhaven Cove
Foxhaven Lake Estates

Foxhaven Shores
Glencoe Place
Harbour Park
Horizon Village
Lakeland Park
Manor in Nottingham
Regency Heights I & II
Silver Oaks I & II
Strathcona Mews
Summerwood Greens
Summit Pointe
Sun Rise Village
Woodbridge Knoll
When you place your waste out please ensure that:
there is a one metre clearance on both sides of the cart from any recycling bags, fences, mailboxes or any other objects
there are no vehicles parked on the street of your complex as the waste truck will need space to access the carts
Complexes that have pre-designated communal collection areas:
These complexes will have a Wednesday collection day and will not receive roll-out carts. Waste and recycling will need to be separated.
Beacon Hills
Broadmoor Lake
Clover Bar Pioneer Court
Davidson Creek Housing Coop
Great Oaks I & II
Greenwood Village
Lincoln Park
Sherwood Green
All other multi-family complexes within Sherwood Park have commercial dumpster service. Your service schedule and routine will not change.
Questions?
780-449-5514
greenroutine@strathcona.ca
Increasing multi-family waste diversion rates
In March 2015, Waste Management Bylaw 39-2014 was passed to increase waste diversion in multi-family buildings and complexes.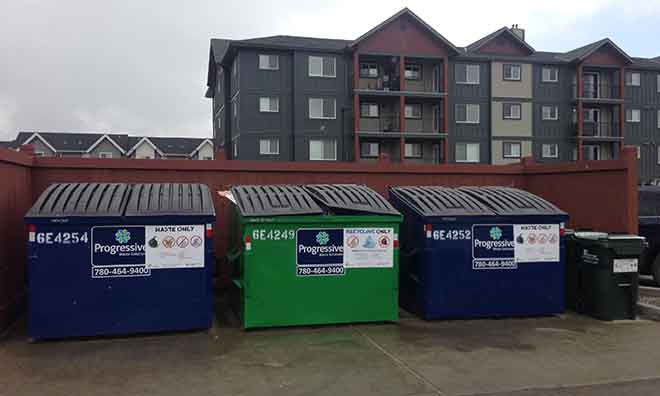 As a result of this bylaw
All multi-family buildings and complexes must have paper or cardboard recycling opportunities available to residents in addition to waste services
Each complex or building will need to complete a Waste Diversion Compliance Plan

(85.9 KB)

prior to September 30, 2015. This plan must be updated annually.
Any commercial hauling company operating in Strathcona County will need to complete a Waste Diversion Compliance Plan

(74.5 KB)

annually. This will increase communication and help educate residents on waste and recycling processes.
Organics carts available at the Broadview Enviroservice Station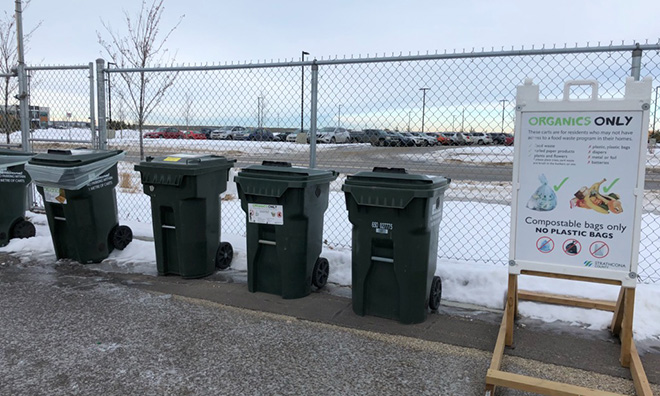 Green carts at the Broadview Enviroservice station
If you do not have access to on site organic waste diversion at your building you can contact the Waste Diversion Program Liaison at 780-416-6784 to receive your free kitchen catcher. Carts are available to empty your food waste into at the Broadview Enviroservice Station free of charge. Download the Green Routine app or click here for more information about the green carts.  
Multi-family buildings that are going the extra mile
The following buildings have added on site organic waste collection for their residents:
Encore
Emerald Hills Apartments
Aspen Village
During the eight-month pilot project these building diverted between 43% to 47% of their waste from the landfill. They continue to do their part by having organic waste diversion as a permanent part of their environmental initiatives.
If you would like to learn more about recycling opportunities or about including organics diversion in your building, please contact: