Trail clearing
After a snowfall, Strathcona County follows a priority system for clearing trails and sidewalks in Sherwood Park and rural hamlets. 
The County works to clear all priorities within five or six days, but it can take up to eight days from the start of a snowfall to clear all trails and sidewalks.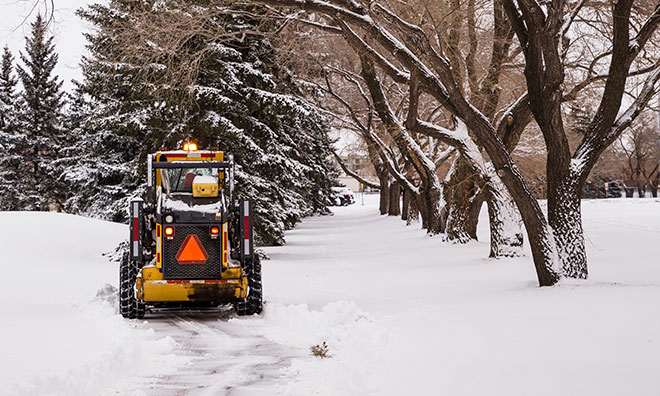 | | |
| --- | --- |
| Priority  | Locations  |
| 1  | Centre in the Park and Bethel Transit Centre   |
| 2  | Adjacent to school zones and major County facilities  |
| 3  | Along major arterial roadways, collector roadways and trail linkages within residential areas and rural hamlets  |
| 4  | Typically narrower paths within neighbourhoods that interconnect residential streets  |
Frequently asked questions
We clear the trails as quickly as we can with the resources and equipment available to us. With more than 200 km of trails to maintain, we follow a priority system that ensures the most highly used areas are cleared first.

Trails linkages within residential areas are Priority 3 pathways, which we typically start clearing within three days after the start of a snowfall.

We will go back and start clearing the Priority 1 and 2 trails. Once that is complete, we will pick up where we left off before the snowfall.  

Trails are continuously travelled by a maintenance team to address any change in conditions or concerns submitted to the County by trail users. 

We primarily use rock chips on icy trails. In extreme circumstances, we will use an environmentally friendly ice melt. High traffic locations near County facilities also use the same ice melt product.

Yes, rock chips and the ice melt product are both safe for animals.
County Connect
Ask it, report it or suggest it using County Connect