What items go where?
Wondering if an item is collected with your weekly collection or should be brought in to the Enviroservice Station? 
See our Green Routine waste services quick guide (6.2 MB) .

Still unsure?

Check our A to Z printable list of items for disposal (167.8 KB)
Learn what goes where with our waste sorting game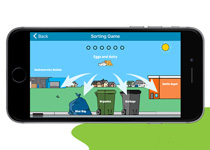 Are coffee grinds garbage or organics? Which bin should I put plastic bags in? Can I throw away
old batteries? Try our interactive waste sorting game to learn more. Play through five different
levels of waste sorting. Each level passed lets you add items to your beautiful virtual park.

Become a master sorter! Play now!
If you have any questions or notice an item that should be added, please contact Utilities (780-449-5514 or greenroutine@strathcona.ca). You can also use the quick guidelines  to help you determine where to properly dispose an item.
Questions?
780-449-5514