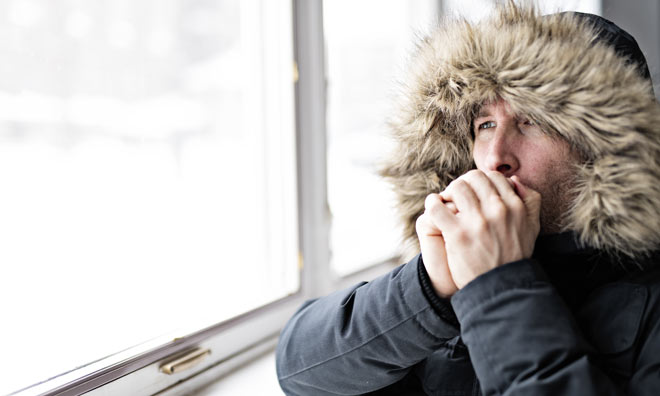 The extreme cold temperatures create a dangerous environment for anyone staying outside too long. As a community, let's watch out for each other as we try to stay warm.
Family and Community Services can support community members in need — call 780-464-4044.
---
If you see someone in medical distress due to the cold weather, call 9-1-1.
---
Need a place to warm up?
You are welcome to visit the following locations to warm up, free of charge. Please remember to follow all COVID-19 guidelines, including wearing a face covering and staying 2 metres apart.
Strathcona County Community Centre (open weekdays 8 a.m. - 5 p.m., closed on weekends and stat holidays)
Bethel Transit Terminal (open weekdays from 5:30 a.m. to 12 a.m; Saturday 7 a.m. – 12 a.m.,  Sunday 8 a.m. – 8 p.m.)
Ordze Transit Centre (open weekdays 5 a.m. – 7:15 p.m., closed on weekends.)
If you're cold and need shelter, hop on a Strathcona County Transit bus. Even if you don't have a fare, we will make sure you aren't left outside.
Need more support?
During regular business hours, contact Family and Community Services at 780-464-4044 for anyone in need of support.
Supports include:
Food and clothing vouchers
Public phone
Bus tickets
Access to shelters in the region, housing option supports
Basic hygiene supplies
Counselling
Emergency crisis supports
Call 9-1-1 if you need emergency help
Call 2-1-1 and press 3 for 24/7 Crisis Diversion non-emergency supports (shelter, mental health supports, other basic needs)
Want to help?
Donate new or gently used clothing to social agencies that provide food, warming spaces and supports for people in need.
Check in on neighbours that have limited mobility.
Need a ride?
Regardless of temperature Strathcona County Transit will continue to run. Cold weather may cause delays in our service. We may run a little late but we will be there, morning, noon or night.

Transit is a safe place – If you're cold and need shelter, please hop on a bus, regardless of whether you have the fare. We won't deny you in this weather. More information on Safe Bus
Keeping an eye on furry friends too
If you see dogs in distress, call at 780-449-0170. For all other animals, report concerns to the Alberta SPCA.
Know the signs of hypothermia and frostbite
Some people are more susceptible to the cold, particularly children, the elderly and those with circulation problems.
Check on elderly relatives and neighbours to ensure they are warm enough and have sufficient supplies, particularly when the weather is cold or snowy. They might not feel comfortable going outside to shop and may require food, medications and other supplies.
The use of alcohol, tobacco and certain medications will increase your susceptibility to cold.
Hypothermia
Being cold over a prolonged period of time can cause a drop in body temperature
Shivering, confusion and loss of muscular control (e.g., difficulty walking) can occur.
It can progress to a life-threatening condition where shivering stops or the person loses consciousness. Cardiac arrest may occur.
What to do:
Get medical attention immediately.
Lay the person down and avoid rough handling, particularly if the person is unconscious.
Get the person indoors.
Gently remove wet clothing.
Warm the person gradually and slowly, using available sources of heat.
Frostbite
A more severe condition, where both the skin and the underlying tissue (fat, muscle, bone) are frozen.
Skin appears white and waxy and is hard to the touch.
No sensation - the area is numb or tingling.
What to do:
Frostbite can be serious, and can result in amputation. Get medical help!
Do not rub or massage the area.
Do not warm the area until you can ensure it will stay warm.
Warm the area gradually; use body heat, or warm water (40°C to 42°C). Avoid direct heat which can burn the skin.
These tips have been brought to you by Environment Canada in collaboration with Public Safety Canada.
Cold weather driving tips
Always carry a snowbrush/scraper in your car with possible emergency items such as a lightweight shovel, battery jumper cables and flashlight
Make sure all mirrors and windows of your vehicle are free from snow or frost before getting on the road. Don't forget to remove the snow from the roof of your vehicle.
Keep your headlights on.
Give yourself enough time to stop.
Be sure your vehicle's exhaust pipe is clear of any snow or obstructions.
Check all block heater cords for any signs of heat damage or wear before using.
Vehicles will break down/not start. Please have patience and help one another.
Power usage tips
Power usage hits peak hours between 5-7 p.m., and Albertans are encouraged to limit electricity use during those hours by taking steps including:
Turn off unnecessary lights and appliances
Minimize use of space heaters
Delay use of energy-demanding appliances like washers, dryers and dishwashers during peak hours
Cook with microwave, crockpot or toaster oven instead of a stove
 Limit use of kitchen or bathroom fans
Use motion detector lights where possible
Work on a laptop instead of desktop computer