Community Garden program
Community gardens temporarily closed
On March 26, 2020, all Strathcona County-owned outdoor hard surface amenities are closed until June 15 or further notice. This includes community garden spaces. These measures are in place to keep our community safe and enable social distancing.
Strathcona County will continue work to follow the advice of Alberta Health Services to limit the spread of COVID-19, and ultimately, to keep our employees, customers, community and visitors healthy and safe.
Please note: The April 15th garden leader orientation meeting is cancelled, as all in-person public engagement sessions have been suspended due to COVID-19.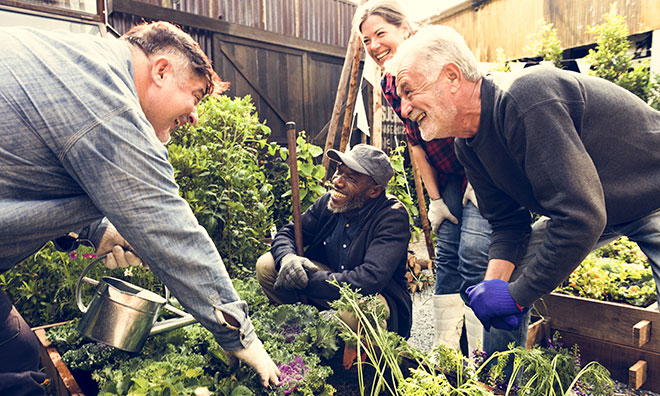 Strathcona County's Community Garden program helps residents and local non-profits establish community-led garden projects in County parks and green spaces.
Community gardens create a healthier, more livable community by helping residents grow food and build relationships with neighbours.
Get involved
The Community Garden Program is open to all Strathcona County residents, and it is guided by the following principles:
Walkable –  used and enjoyed by those who live in the community
Inclusive – welcoming and gathering space open to everyone
Community-led – designed for the community, by the community
There are two ways you can get involved with the program:
Join an established garden – visit the garden of your choice (view Urban Agriculture map), and take time to talk with garden members at their site to learn how the group runs the garden. Please note that community gardens are popular and waitlists are common. 
Start a new community garden – work together with other residents to start a new community garden. To be successful, community gardens need people power, purpose and a plan. Note that only a few garden sites can be approved and built each year. Our staff will guide you through the planning and application process so you can start growing your idea. To get involved contact us by phone or make a request through County Connect.
Find a community garden
View all of the community gardens in Strathcona County on our Urban Agriculture online map.
Starting a community garden
Applications are accepted and approved on an ongoing basis throughout the year.

The process for applying, planning and constructing a new community garden may take 18 to 24 months.

Once gardens are approved a construction timeline will be provided.

The County provides the following services and resources to support community gardens:

Initial consultation and site review for garden inquiries
Builds and installs garden boxes (includes soil)
Moderate landscaping (if required)
Optional water delivery (water tote provided)
Entry signs at established gardens
Profile on the Urban Agriculture Map
Liability insurance on public land
Planning support and expertise
Administers Community Garden License Agreement
Administers Community garden application and expansion forms

The garden group is responsible for the following aspects of creating successful community gardens:

Complete and submit application and letter of intent
Create member guidelines
Garden maintenance (once established)

Managing soil health
Weeding and mowing
Mulching (if required)

Practice water conservation
Membership recruitment and maintenance
Member communication
Assigning a representative for external communication (i.e. with the County)
Uphold License Agreement Terms and Conditions
County Connect
Ask it, report it or suggest it using County Connect