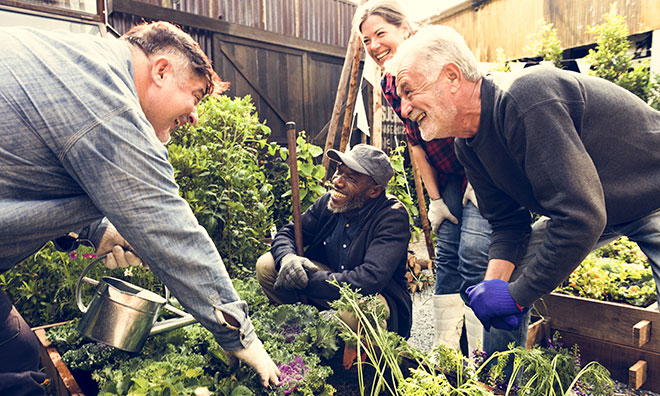 Strathcona County's Community Garden program helps residents and local non-profits establish community-led garden projects in County parks and green spaces.
Community gardens create a healthier, more livable community by helping residents grow food and build relationships with neighbours.
Get involved
The Community Garden Program is open to all Strathcona County residents, and it is guided by the following principles:
Walkable –  used and enjoyed by those who live in the community
Inclusive – welcoming and gathering space open to everyone
Community-led – designed for the community, by the community
There are two ways you can get involved with the program:
Join an established garden – visit the garden of your choice (view Urban Agriculture map), and take time to talk with garden members at their site to learn how the group runs the garden. Please note that community gardens are popular and waitlists are common. 
Start a new community garden – work together with other residents to start a new community garden. To be successful, community gardens need people power, purpose and a plan. Note that only a few garden sites can be approved and built each year. Our staff will guide you through the planning and application process so you can start growing your idea. To get involved contact us by phone or make a request through County Connect.
Find a community garden
View all of the community gardens in Strathcona County on our Urban Agriculture online map.
County Connect
Ask a question, provide feedback or report an issue.
---
Stay informed