Canada Day Festival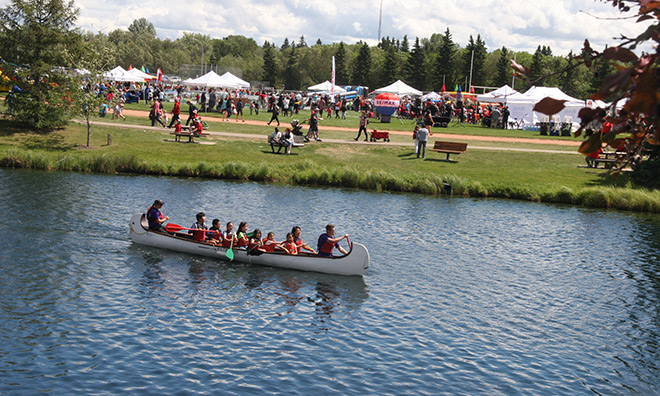 Updates and notices:
Sobeys Fireworks are still a go! Check back for updates if weather changes
Enjoy activities in TD South Fun Zone until 10:30 p.m. including a variety of inflatable fun with Toddler Crab Cake, *Zipline, *3D Tropical, and Jacob's ladder plus the

ATCO

Athletes Stage, Video Games and *Remote Control Race Cars (*ticketed).
Starting at 7:30 p.m. until 10:30 p.m. enjoy campfire cooking and a drumming workshop.
Download the Strathcona County Recreation Mobile App for Canada Day event info on the go.
Join us at Broadmoor Lake Park (Oak Street, Sherwood Park) as we celebrate Canada's birthday at Strathcona County's largest festival. Family activities, performances and fun for everyone! Most activities are free, some require tickets. Please note: photos and videos may be taken at this event for promotional purposes.
What's going on at Canada Day?
Pancake breakfast supported by the Canadian Progress Club from 9 - 11:30 a.m. Remember to bring a non-perishable food item for the Strathcona Food Bank. 
Farmers Market from 10 a.m. - 5 p.m.
FREE interactive activities and crafts 
Performances by Bob the Builder have changed to a Meet and Greet inside Sherwood Park Sports Centre. Plus performances by The Melisizwe Brothers
Meet and greet with Rubble from Paw Patrol
Headlining performance by Michelle Wright at 9:45 p.m.
Spectacular fireworks show at 11 p.m.
Canada Day Festival details
Most activities are FREE but some require a ticket or an unlimited activity wristband. Check out the activities that require tickets by selecting "Tickets required" in the activity calendar below.

Individual activity tickets will be available for purchase for $1 on July 1 at:

Festival Place (100 Festival Way)
Kinsmen Leisure Centre (2001 Oak Street)
Plaza Information Booth
Broadmoor Lake Park Field Information Booth
Pancake Breakfast Info Booth (Community Centre)

The $5 unlimited activity wristbands are available before Canada Day at the following locations:

Recreation Administration Office (Closes at 4:30 p.m. - 2025 Oak Street)
Millennium Place (2000 Premier Way)
Sherwood Park Mall *Cash only (2020 Sherwood Drive)
Kinsmen Leisure Centre (2001 Oak Street)
Emerald Hills Leisure Centre (3555 Emerald Drive)
Festival Place (100 Festival Way)
Glen Allan Recreation Complex (199 Georgian Way)
Ardrossan Recreation Complex (80-1 Ave, Ardrossan)

The wristbands give you unlimited access to ticketed activities. There are a limited number available, get yours before they sell out!

We recommend that all dogs stay at home, since it will be extremely busy and crowds are stressful for most dogs. All service dogs are welcome.

ATMs are available at the following locations:

Sherwood Park Arena (outside on the west side of the food vendors, and inside the building)
Festival Place
Community Centre

Bike racks are available in the Sherwood Park Arena parking lot (southwest corner). Remember your bike lock.

The food court is located on the plaza of Broadmoor Lake Park. There are a variety of options to satisfy everyone's cravings.

There are also some vendors on the Salisbury Field and at the Famers Market (located in the Festival Place parking lot).

Start your day on the right foot! Take the FREE Park N Ride from the Bethel Transit (650 Bethel Drive) Terminal off Baseline Road

Departures start at 8:30 a.m. from Bethel Transit Terminal (650 Bethel Drive) to Broadmoor Lake Park operating every 15 minutes. Last departure will be at 11:30 p.m.

Returns start at 8:45 a.m. from in front of Festival Place operating every 15 minutes. Last departure will be at 11:45 p.m.

The Canada Day transit service will be rerouted from Festival Place to the Sherwood Park Arena (2015 Oak Street) between 10 a.m. - 11 a.m. for the Canada Day Parade.

Local service on July 1 will follow Sunday weekend service schedule.

The ensure you and your family have a safe and fun experience, remember to visit the Lost Child Tent on the walking path by Kinsmen Leisure Centre or any information booth to receive your lost child wristband. Should you be separated from your child during the festival, your child will be escorted directly to the tent.

The Lost Child Tent runs from 9 a.m. - 11 p.m. and is operated by Citizens on Patrol.

The Kinsmen Leisure Centre lifeguards are on duty to provide first aid from 8:30 a.m. – 11:30 p.m. Should you or someone in your group require first aid please go to the nearest information booth, the Kinsmen Leisure Centre or contact any volunteer.

Please remember to bring your sunscreen, hat and drink plenty of water on a hot day!

Although all parking is free, we encourage you to car-pool or use the FREE public transit to the festival. Parking is extremely limited.

Parking is available at:
•​​​​​ Community Centre underground parkade, accessible parking available* (401 Festival Lane)
•​​​​​ Centre in the Park Parkade (Festival Lane & Festival Way)
• Limited handicap parking available in the Sherwood Park Arena parking lot (2015 Oak Street)
• St. Theresa Catholic School parking lot (2021 Brentwood Blvd)
• East side of Salisbury Composite High School (20 Festival Way)

After 6 p.m., parking is available at the Sherwood Park Mall (2020 Sherwood Drive)

*Please note, if you park in the Community Centre parkade, you will not be able to leave the parking lot during the parade (approximately 10:30 a.m. – 11:00 a.m.)

Don't let your incredible day at the festival be ruined; remember to remove valuables from your car.

Restricted parking along Oak Street

Please note that parking on Oak Street, from south of the Broadmoor Public Golf Course to Sherwood Drive, will be for residents only on July 1st. Resident parking passes will be required for street parking and will be monitored.

Please ensure you display your resident parking pass.

Festival Lane will be closed from 7 a.m. – 12 noon (Festival Avenue will be open)
Festival Way will be closed from 7 a.m. – midnight (local traffic only).
Festival Lane and Festival Ave will be closed from 10:30 p.m. – 12 a.m.
Oak Street will be closed from 8 p.m. – midnight

Over 350 enthusiastic volunteers are needed to help put on this spectacular event. Shifts are flexible and you can sign up with a family member or friend, or alone and meet new friends!

Volunteers who sign up for a minimum 6 hour shift recieve an invitation to the Special Guest Reception in the Kinsmen Leisure Centre parking lot to enjoy great seats for the Imperial Stage and for the fireworks. NEW: Be entered to win a limited edition Coca-Cola bicycle.

Learn more about volunteering at Strathcona County's Canada Day Festival here and sign up today!

Washrooms are located at:

Sherwood Park Arena and Sports Centre
Kinsmen Leisure Centre (inside the building and outside port-a-potties in the parking lot)
Festival Place
Salisbury Fields (port-a-potties)

The fireworks start at 11 p.m. and the best place to watch them is at Broadmoor Lake Park. Tune in to 106.7 FM for music.
---
Activity and entertainment schedule
Printable Map and Schedule
Sponsors and partners
Festival partner
Feature attraction sponsors
Branded activity and in-kind sponsors

Funding provided by
Photos and videos may be taken at this event for promotional purposes.
---
---