Strathcona County School Garden program
School gardens are a place where students can learn about growing and eating healthy food. Through hands-on learning, teachers help students connect with the plant life cycle, while learning about seeds, soil, sun, water, bugs and weeds.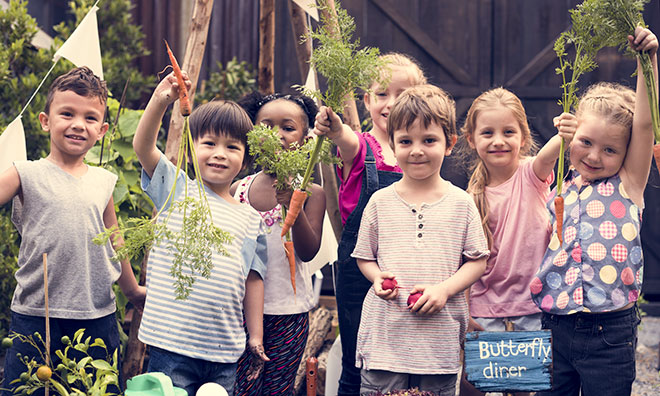 About the program
Each participating school receives two raised garden beds, soil and seeds to get started (with opportunity for expansion over time). The program is entering its fifth year with 15 schools participating, from elementary to high school.
School gardens inspire creativity and wonder. Kindergarteners learn that fresh-picked spinach is sweet and tasty and that good nutrition helps grow muscles, like Popeye. High School students incorporate growing and harvesting vegetables and herbs into their culinary arts program. In the fall, harvest soups made with root vegetables are ways teachers and students celebrate growing food. 
School garden program history
Salisbury Greenhouse started the Salisbury School Garden Pilot Project in 2013 and administered the project from September 2013 to March 2017. For Salisbury Greenhouse, the project was "a way to give back to the community by offering their resources, as passionate gardeners, to educators in order to enrich our children's educational experience and nurture a love of growing in the next generation of gardeners". 
In 2017, Salisbury Greenhouse invited Strathcona County to take over the administration of the School Garden program with the goal to expand the program. Salisbury Greenhouse continues to provide guidance and materials support.
School garden participants
Year
Participants
2017/18

École Our Lady of Perpetual Help Catholic School
Jean Vanier Catholic School
Holy Redeemer Catholic School
Fultonvale Elementary Junior High

2016/17

Strathcona Christian Academy Secondary

2015/16

F R Haythorne Jr High
École Pere Kenneth Kearns
Mills Haven Elementary
Westboro Elementary

2014/15

École Campbelltown
Holy Spirit Catholic School
Madonna Catholic School
Salisbury Composite High School
Wye Elementary School

2013/14

Ardrossan Elementary
Clover Bar Junior High
Pine Street Elementary
Wes Hosford Elementary
Woodbridge Elementary
How to start a school garden
Here is an overview of the process for starting a school garden:
A maximum of five new schools per year are invited to participate in the program.
Identify two staff contacts per school. Their role is to champion the project and create a plan for the school garden.  
Successful applicants will demonstrate a purpose for their school garden that supports student learning and the celebration of growing food. 
Strathcona County and their local partners will supply successful applicants with everything they need to get started:

Two raised beds
Soil
Seeds
Tools
Thank you to our Partner:

Further information: