Gallery@501
Ph. 780-410-8585
#120, 501 Festival Avenue, Sherwood Park, AB
The gallery is re-opening
Gallery@501 will re-open to visitors beginning June 10, 2021 with extended hours for the month of June. Our Salon Series exhibit dates have been extended please find the details below and virtual programs information here. Children and youth in-person programs are permitted to run under the provincial guidelines in place, register today.
Learn more about what Strathcona County is doing to help stop the spread of COVID-19.
Gallery@501 Celebrates its 10 Year Anniversary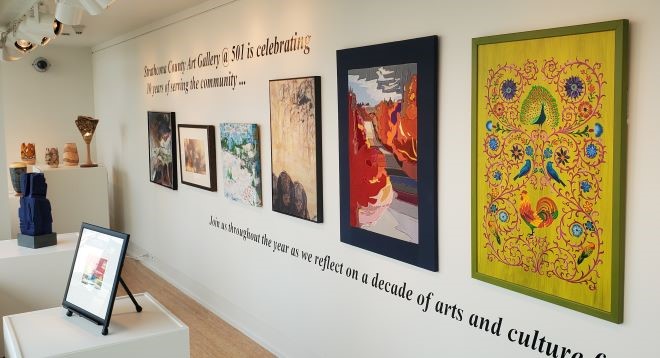 Gallery@501 - 10 Year Anniversary Window Display
Join us throughout the year as we reflect on a decade of arts and culture from 2011 - 2021. Together we can continue to support, inspire and grow a love of the arts while providing a welcoming space for all.
Exhibits
Salon Series
The in-person exhibit will be extended until June 23, 2021.
The virtual exhibit is extended until July 7, 2021.
Upcoming Exhibit
"Tales From the In Between" by Tammy Salzl
July 8 - August 21, 2021
Hours of operation
Special extended Gallery@501 hours during the month of June.
Tuesday | Thursday
12 p.m. – 8 p.m.
Wednesday | Friday
12 p.m. – 6 p.m.
Saturday
12 p.m. – 4 p.m.
Closed Sundays, Mondays and Statutory Holidays
Stay Connected with Gallery@501
It is important to stay connected as an arts community during the COVID-19 situation. We have a page that offers a few ways to stay connected with Gallery@501 such as virtual exhibit tours, featured artists, and resources. 
Register for a program
---
Download our mobile app for parks, events, early childhood and drop-in recreation schedules.
County Connect
Ask it, report it or suggest it using County Connect