Gallery@501
Ph. 780-410-8585
#120, 501 Festival Avenue, Sherwood Park, AB
Know before you go: recreation and culture facilities
Last Modified: Sept. 21, 2021, 2:31 p.m.
Hours of operation update
Gallery@501 will be closed on Thursday, September 30, 2021 for observance of the National Day of Truth and Reconciliation.
Last Modified: Sept. 22, 2021, 4:03 p.m.
Gallery@501 celebrates its 10 year anniversary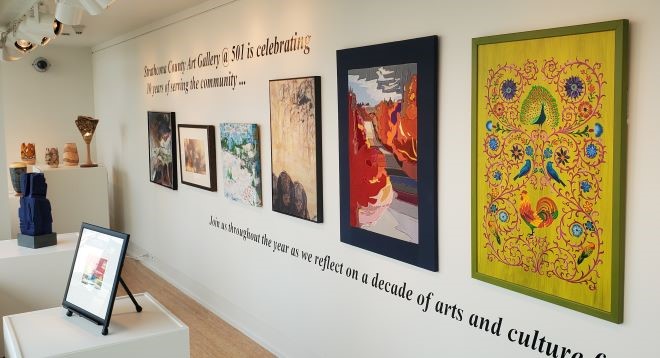 Gallery@501 - 10 Year Anniversary Window Display
Join us throughout the year as we reflect on a decade of arts and culture from 2011 - 2021. Together we can continue to support, inspire and grow a love of the arts while providing a welcoming space for all.
Exhibits
Current Exhibits:
AMPLIFY
Elsa Robinson, Raneece Buddan, Diana Ohiozebau and AJA Louden
September 10 - October 30, 2021
Reckoning | Unraveling | Reclaiming
a journey to self
Nisha Patel, Temi Phillips and Adetola Adedipe (aloT of Poetry)
September 10 - October 6, 2021
Upcoming Exhibit:
...bring a folding chair 
AJA Louden, Elsa Robinson, Fetsum Teclemariam, Braxton Garneau
October 9 - 30, 2021
Hours of operation
Tuesday | Thursday
12 p.m. – 8 p.m.
Wednesday | Friday
12 p.m. – 6 p.m.
Saturday
12 p.m. – 4 p.m.
Closed Sundays, Mondays and Statutory Holidays
Stay connected with Gallery@501
It is important to stay connected as an arts community during the COVID-19 situation. We have a page that offers a few ways to stay connected with Gallery@501 such as virtual exhibit tours, featured artists, and resources. 
Register for a program
---
Download our mobile app for parks, events, early childhood and drop-in recreation schedules.
County Connect
Ask it, report it or suggest it using County Connect