Visual art education programs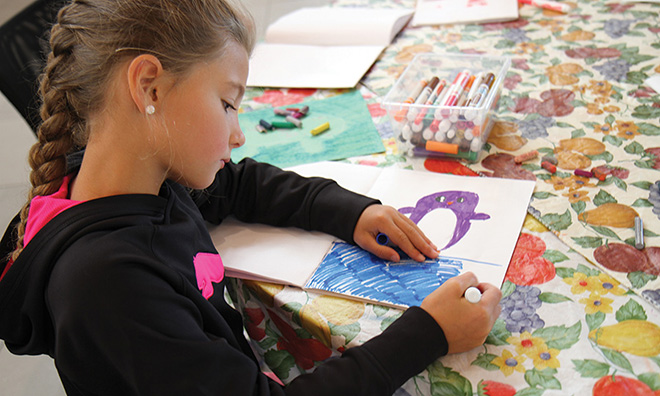 2020-21 Active Schools
This school year is going to look a little different and so will our Active Schools program. We are hard at work, building programs that students and teachers will enjoy, while following all Alberta Health Services guidelines to help prevent the spread of COVID-19 in our community.
To discuss options for your class, please contact any of our programmers: Active Schools 2020/21 Program Contacts
gallery@501
Gallery @ 501 offers cross-curriculum aligned visual literacy programs for grades K to 12.

Have a gallery educator come into your grades 7 to 12 classroom. Gallery educators can customize a program based on a specific curriculum, or complement a classroom project. The programs starts with a theme-based art and interpretation section, followed by a hands-on art project to translate learning into visual expression. Outreach programs usually consist for two classroom visits, but this can be tailored. Project can include drawing, printmaking, mixed media, painting or collage. This is a great opportunity to enhance learning in English Language Arts and Social Studies as projects can be based on a novel, a culture or indigenous group, historical event or more. Cost depends upon the program design

For information on the new Bus Subsidy Program, please contact Kristene Miller, Education Programmer, at 780-410-8582.
This program is available for Elk Island Public and Elk Island Catholic K-12 schools visiting Strathcona County Art Gallery@501.

Education programs at gallery@501 are based on the exhibitions scheduled throughout the year in the gallery. Programs are tailored to the grade level, and connect to a variety of subject matter within the Alberta Curriculum. The focus of our education programs is to provide an interconnected, multidisciplinary approach to learning.

Exhibitions in the Gallery feature local, provincial and national artists that will directly engage the students with current contemporary artworks from across Canada. These exhibits change every six weeks and offer a variety of diverse art practices and art media.

Contemporary artwork challenges social thought and perceptions through music, math, language arts, sciences, social studies, social media and more. Visual literacy programs provide a more in-depth, substantial experience for the students inspiring communication, flexibility, forward thinking, problem solving, creativity and innovation.
---
Smeltzer House Art Centre | Clay Hut
Clay programs for:
Preschool – Kindergarten
Grade 1 – 3
Grade 3 – 6
Design a program to suit your specific needs or curriculum focus.
County Connect
Ask it, report it or suggest it using County Connect