Integrated emergency services
Have you ever wondered what it's like to be a firefighter AND paramedic? It is exciting, rewarding and a tough job. The women and men in Strathcona County Emergency Services are committed to serving our community as both firefighters and paramedics. 

Video courtesy of Strathcona County Fire Fighters Union Local 2461
Meet Elliott Wilson, he has been with Strathcona County Emergency Services for five years. Being a firefighter was always something he wanted to do. His grandfather was Fire Chief of a small town. The call for service is in his blood.
In this interview, you will learn a little bit about the services we provide, the person behind the uniform and some reminders for residents from our responders.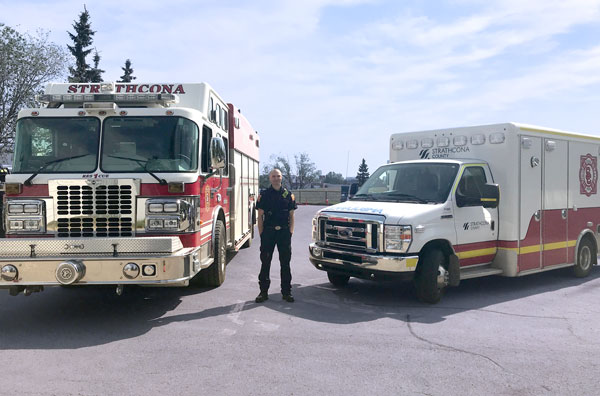 Each member in Strathcona County Emergency Services is trained as a firefighter and paramedic.
It is very different from day to day depending on my assignment. I can be working on an ambulance or a fire truck.

We start each shift by going over duties for the day and upcoming training. Days begin with a list of duties we need to complete. We complete truck and equipment checks to make sure everything is in working condition.

Of course, when calls come in we must be ready to go. We have 90 seconds to get our gear on and get out the door in the trucks – responding to house fires, wildland fires, motor vehicle collisions, public assistance needs and ambulance calls.

We have specialty teams that have additional training for water rescue, technical response and unmanned aerial vehicle (drone). I belong to the UAV team.

Between calls and training, we like to do things as a crew. We are like a family. We eat together, work out together, joke around together. It's important to be a highly functioning team.

An integrated service means that each one of our members is trained as a firefighter and paramedic.

This means that members can work seamlessly together at calls. We all respond on fire trucks or on ambulances depending on the day. If there is a motor vehicle collision and the fire truck arrives before the ambulance, the firefighters can start treatment until the ambulance arrives. They have all the same medical equipment in their fire trucks that are in an ambulance.

The members that are working on the ambulance that day also carry their bunker gear (for firefighting) and can jump in to help fight a fire if they are needed.

With an integrated service, you get the best of both worlds as everyone has an increased level of training with each discipline. You also know what other members of your team are capable of. The versatility to move back and forth between ambulance and fire trucks allows us to meet the needs of the community at that time.

Sometimes when people have called for an ambulance and see the fire patch on our uniforms when we arrive, they are confused. They don't realize that we are all paramedics.

I do this because I want to be of the service to my community. I feel like I am giving back to the community by helping people and making a difference. We are part of some very stressful moments for people and I want to do what I can to help make their experience a little better.

I was dispatched to a call where the patient was having severe chest pain. We arrived and started to assess our patient. The patient was having a heart attack and while we were starting initial treatment, their heart stopped altogether and they went into cardiac arrest.

We took advanced measures to treat this and were able to bring the patient back to life. But their heart was still in bad shape – the heart attack was still happening. We were then able to contact a cardiologist at the hospital, and were able to perform further life-saving treatment. We administered a powerful medication that was able to break up the clots that was giving this person their heart attack.

By the time we had transported them to the hospital, the patient was sitting up and talking to us. Together we saved that person's life. It was a difficult call but was so rewarding to have such success after things looked quite grim.

Learn more about this advanced treatment

I love the variety of our job and that we never know what the day will bring. However, this can also present some challenges.

We respond to so many different calls, from ducks trapped in a storm drain to car accidents involving dozens of people, responding to a one hundred car pileup to helping out our neighbouring communities with wildfires.

This requires a lot of training and we need to make sure we are keeping all of our skills up to make sure we can respond to all the different calls.

In Strathcona County, we have three-person ambulances. The extra person isn't "just an ambulance driver," they are there to help with response and during those moments where seconds matter, having an additional person to help allows us to provide a more efficient service and prompt care to our citizens.

Check your smoke detectors. Once a month test all smoke detectors with smoke. Smoke detectors save lives.
When you are driving and hear sirens, pull over and stop. Allow the emergency response vehicle to pass you before you start driving again.
We want everyone to have a safe and healthy summer. Make sure you aren't distracted when driving and be aware of others, especially motorcycles, while on the road.
Remember that ambulances are to be used for serious medical emergencies only, but don't wait too long to call if you are in that situation. It's important that we be able to initiate care early.
Want to get a further glimpse into the integrated service?

Video courtesy of Strathcona County Fire Fighters Union Local 2461