Regional full time firefighter recruitment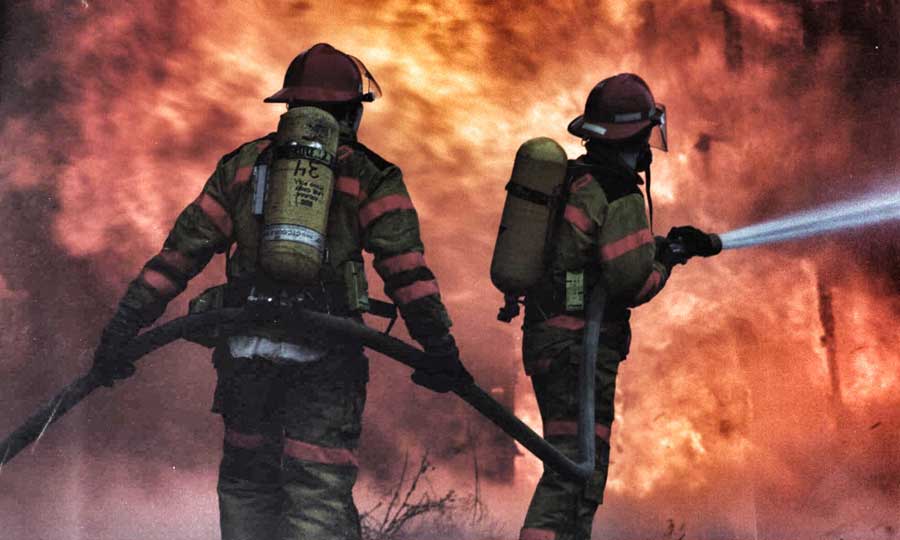 For our Firefighter/Primary or Advanced Care Paramedics it's not just a career...it's a calling
Virtual information session for Firefighter/PCP or ACP recruitment
This information session is for individuals considering employment as a Firefighter/Primary or Advance Care Paramedic with Strathcona County or The City of Spruce Grove.
The session focuses on:
- Information about Emergency Services in Strathcona County and the City of Spruce Grove
- What it means to be a Firefighter/ Primary or Advance Care Paramedic within our community
- The recruitment process and timelines
- And offer an opportunity for questions and answers
Competition is closed
Fire and EMS services from Strathcona County and the City of Spruce Grove have joined efforts and conduct a regional recruitment. Qualified candidates interested in working for a fully integrated fire and EMS service will have the opportunity to submit their resume during the active recruit
Learn more about the selection process
The joint recruit competition runs from September 1 to 30, 2020. Resumes are being only accepted during this time. The joint recruit includes Strathcona County and City of Spruce Grove. 
Please note: information collected through this recruitment including results of testing will be shared between Strathcona County and the City of Spruce Grove and their delegates. The Regional Information Sharing - Consent form is to be submitted along with your resume and cover letter. These documents must be signed by the applicant and sent along with your resume, otherwise it will not be considered for this recruitment.
Considering a career as a firefighter?
A career with a fully integrated fire and emergency medical service (EMS) service is exciting, fulfilling, diverse and challenging. We are ready to respond to any emergency 24 hours a day, 365 days a year. Dedicated teams of emergency services professionals (from Strathcona County and City of Spruce Grove) save lives and protect property by responding quickly and effectively. If you thrive on teamwork, want to help those in need, and have a desire to contribute to your community, consider applying today.  Complete a self-evaluation questionnaire. (43.6 KB)
Things to consider before applying
Learn about the selection process.
Before you submit your firefighter application, take the time to learn all you can about the job and requirements. Familiarize yourself with the job tasks and the different steps in the selection process. Do your homework; better to be over prepared than unprepared.
Although exciting, this is also a dangerous job. You may be exposed to many hazardous conditions, loud noises, and contaminants, and have to work in extreme temperatures.
You need to be prepared to travel (if required) to complete various testing events. It is not always possible to participate in multiple tests in one trip.
A commitment to maintaining a daily fitness regime and monitoring your personal wellness is essential to ensuring personal safety and longevity. Make sure you have the strength, stamina and cardiovascular conditioning required to take on the physical challenges of this career.
Ethical behaviour and accountability must be part of your nature. Taking responsibility for and ownership of your actions is vital to success in the hiring process.
An ability to carry out orders at emergencies, combined with the capacity to assess and act on own initiative and/or work effectively as part of a team.
Job fit is one of many critical factors considered in our decision making processes. Successful completion of all steps in the process does not ensure a job offer.
You must be able to follow and act on complex oral and written instructions; you will be evaluated on these skills throughout our assessments.
A practical understanding of a wide range of subjects related to fire, rescue, dangerous goods and EMS, including the ability to operate and understand the operation of mechanical equipment
Your demeanour and input throughout the selection process are taken into consideration as part of the final hiring decision.
Duties of a Firefighter. (52.0 KB)
Minimum qualifications for applying to be a Firefighter
You must meet the following minimum qualifications on the date you submit your application:
One of the following is required:
Registered Advanced Care Paramedic (ACP)
2nd year Advanced Care Paramedic (ACP) or graduate of a recognized ACP, students registered as a Primary Care Paramedic (PCP) that will be writing the Canadian Organization of Paramedic Regulators (COPR) no later than November 2020 (must successfully pass the exam).
Registered Primary Care Paramedic (PCP) and have a NFPA 1001 - Level I & II certification (certification must be held on the date of application)
NOTE: Out of province applicants with provisional registration with the Alberta College of Paramedics (pursing a Labour Mobility application) may be considered, full registration is required by the date of the interview.
You must meet the following minimum qualifications on the date you submit your application:
Currently registered with the Alberta College of Paramedics as an Advanced Care Paramedic (ACP) or Primary Care Paramedic (PCP). Proof of registration must be provided upon application. 
Hold a valid Class 4 drivers licence. A valid Class 3 drivers licence and Air Brake (Q) endorsement must be completed by start date and is a condition of employment.  This will be provided in the form of a driver's abstract demonstrating a satisfactory driving record with six demerits or fewer.
Have the ability to successfully obtain, and maintain, a vulnerable sector police information check (required upon offer and is a condition of employment).
Ability to pass physical and medical standards, including eyesight and audible, as outlined in the NFPA standard.
The following qualifications are preferred, but not mandatory:
Emergency medical/fire response work experience
Current ITLS certification.
Current PALS certification.
Current ACLS certification.
Certified Advanced Care Paramedics will receive training for NFPA 1001. Dependent on which department hires, successful applicants that have their PCP and NFPA 1001 will be given training to become a certified Advanced Care Paramedic.
Please refer to this document for pre-existing medical conditions which would be considered disqualifying. (126.6 KB)  
Recruiting timelines
For detailed information on the selection process, click here. This process usually takes six months to complete with the following steps:
Competition opens – September 1, 2020
Closing date – September 30, 2020
Physical agility exam – October 9 to November 6. The candidate is responsible for paying for the cost.
Knowledge test – November 12-13. A two hour test that measures candidates' understanding of oral, reading and written information, numerical skills, maps, diagrams, mechanical reasoning and teamwork/public relations. Candidates are assigned to one time slot on one of the days.
Medical knowledge testing - November 20 to December 4. Candidate attends only one day during this time frame. This is an in-depth written exam coupled with a circuit of short (the usual is five to 10 minutes) stations, in which each candidate is examined at a one-on-one basis.

Each station has a different examiner and candidates rotate through the stations, completing all the stations on their circuit. During each station, candidates will be requested to provide clinical assessments and review the potential differential diagnosis and possible treatments.

Behavioural based interviews – January 5 to 8, 2021. Responses given in a "targeted selection" interview are collected using the S.T.A.R. format.

Interviewees should be prepared to answer questions the following way - Situation/Task (what was the circumstance or what needed to be done); Action (what did you do?); Result (what happened or what feedback did you receive?).

Conditional offer of employment – January 31, 2021.
Pre-employment medical assessment and drug screening – February 2021. The medical assessment is a condition of employment and is a general physical, ensuring candidates meet the requirements and physical demands of firefighting.
Anticipated start date – March 1, 2021
Please note that all dates are subject to change.
Collective Bargaining Agreements
Frequently asked regional recruit questions.
Yes. Each recruitment campaign is a separate process.

All applications will be collected through one location, and the cover letter and resume of qualified applicants will be circulated to the two participating departments: Strathcona County and the City of Spruce Grove. One of the benefits of the joint recruitment is that candidates need to only apply once. This will yield a savings in time and money, as each phase of testing will also be conducted only once as well.

You can only apply during the recruitment campaign posting period of September 1 to September 30, 2020 via the City of Spruce Grove Career webpage: www.sprucegrove.org/careers/

A signed and witnessed copy of the Regional Information Sharing Consent Form must be submitted along with your resume and cover letter, otherwise it will not be considered for this recruitment.

There is no cost to submit your online application. If you are successful in reaching University of Alberta Firefighting Fitness Assessment you will be responsible for the fee ($388) associated with this test.

Absolutely! All conditional offers of employment will be made on the same day so candidates who receive multiple offers will have the opportunity to decide which department they wish to work for

Minimum vision and hearing standards are:

On audiometric testing, average hearing loss in the unaided better ear greater than 40 decibels (dB) at 500 hertz (Hz), 1,000 Hz, 2,000 Hz and 3,000 Hz when the audiometric device is calibrated to ANSI Z24.5, Audiometric Device Testing
Far visual acuity less than 20/0 binocular, corrected with contact lenses or spectacles, or far visual acuity less than 20/100 binocular for wearers of heard contacts or spectacles uncorrected.

For more details, see attached Disqualifying Conditions see Section 6.4 and 6.5.

No more than six (6) demerit points are allowed. A current driver's abstract is required at a later phase of the recruitment process.

As of September 2020, there will be approximately three positions available among the two departments. The number of positions may increase by the time offers to the successful candidates are made. The departments may utilize the competition after it has been completed to hire candidates from an eligibility list that will be established until the next recruitment.

No. Firefighter-Paramedics are assigned to fire apparatus or the ambulance on a rotating basis.

Strathcona County provides four ALS ambulances.
Spruce Grove Fire Services provides two ALS ambulances.