Back to school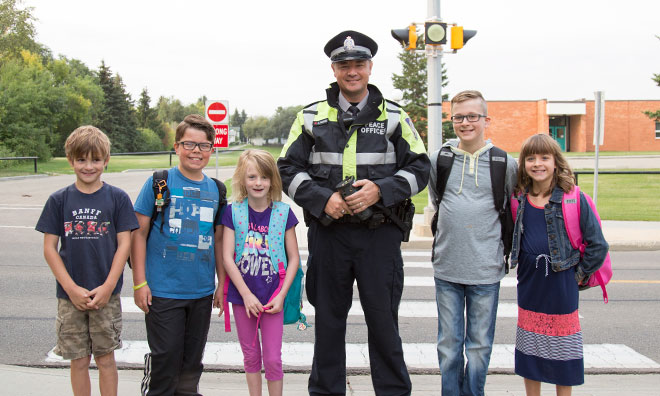 School's back in session as of September 4, 2018 and we're here to help support students and their families throughout the school year. 
Speed in school zones
Beginning in September 2018, all school zones in Strathcona County will be in effect from 7:30 a.m. to 4:30 p.m. on school days.
The school zone speed limit is 30 km/h, in effect from 7:30 a.m. to 4:30 p.m. on school days.
Playground zone speed limit is 30 km/h. It is in effect starting at 8:30 a.m. and ending one hour after sunset.
Learn more about playground and school zones speed limits.
Back to school success
Family and Community Services offers supports for families needing guidance and growth opportunities for their school-aged child, including:
Workshops, events or programs for parents/caregivers
Support
Call Family and Community Services at 780-464-4044 for more information.
Getting to school
This fall, transit will transport over 5,000 riders. Customer service representatives  are available to help riders plan their back to school travel.
Locally, transit service is available for students attending Archbishop Jordan Catholic High School. Check with the school to obtain passes. 
All students are encouraged to take advantage of local transit routes. Local transit is included for both U-Pass and commuter pass holders. Parking will continue to remain at a premium, especially during the school year.
Transit service into Edmonton provides direct routes to:
University of Alberta
NAIT
MacEwan University's downtown campus.
Schedule information
Call 780-464-RIDE (7433) for schedule information, Monday to Friday from 7 a.m. to 7 p.m., and Saturdays from 8 a.m. to 5 p.m.
Where to buy passes and tickets
Strathcona County Transit passes and tickets are available for purchase at:
Ordze Transit Centre (during specified hours),
most 7-Eleven outlets in Sherwood Park
Shoppers Drug Mart at 5-1020 Sherwood Drive.
Make back to school eco-friendly
From packing lunches to choosing school supplies: check these tips on how to make environmentally friendly choices for this school year.