Ambulance services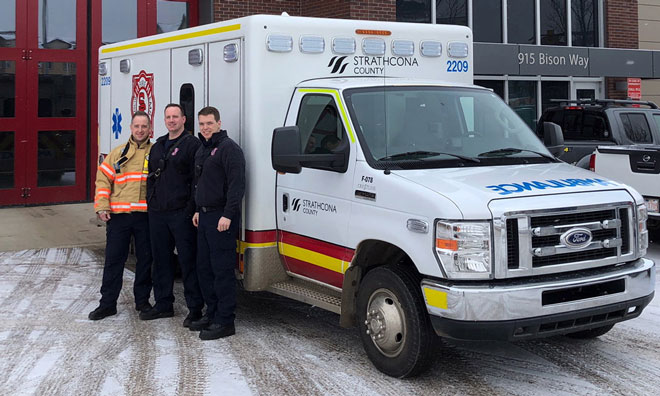 Under the provincially managed ambulance service with Alberta Health Services, Strathcona County is contracted to have four Advanced Life Support ambulances staffed at all times and dispatched within the region as necessary.
Full-time ambulance crews from Strathcona County are trained as either Primary Care Paramedics or Advanced Care Paramedics. Part-time crews in rural Ardrossan and South Cooking Lake are trained as First Responders in CPR and First Aid.
Our commitment
Strathcona County Emergency Services is committed to providing patients and family members a high level of care. Our mission is to protect from risk the things that matter to those we serve.
We are committed to:
Treat patients and their family with dignity and respect
Provide appropriate safe, private and confidential care
Advocate in the best interest of the patient
Behave in a professional manner
Provide full disclosure
Work collaboratively within a patient and family-centred health care team
Mutual respect and cooperation are essential to the delivery of quality health care. If you have questions or concerns, please contact emergencyservices@strathcona.ca or 780-467-5216.
Ambulance user fees
User fees for ambulance service, whether it includes transport to the hospital or immediate assessment and treatment from an EMS crew member on site, are in effect. Fees are charged for assessment and treatment in a patient's home as well as for transportation to a health care facility. Ambulance user fees are set by Alberta Health Services, and may be covered by Alberta Blue Cross or other insurance providers.
You may receive a bill for the following situations:
the patient is assessed and/or treated at the scene, but transport to the hospital is either not required or declined by the patient
the patient is assessed, treated and transported to the hospital
the patient is transported between some medical centres including doctors' offices
If you have a question about your bill, contact emergencyservices@strathcona.ca or 780-467-5216.
Naloxone kits
Naloxone kits can reverse a fentanyl (or other opioid) overdose. Naloxone kits are available free of charge to anyone at risk of an opioid overdose. View an interactive map of kit locations.