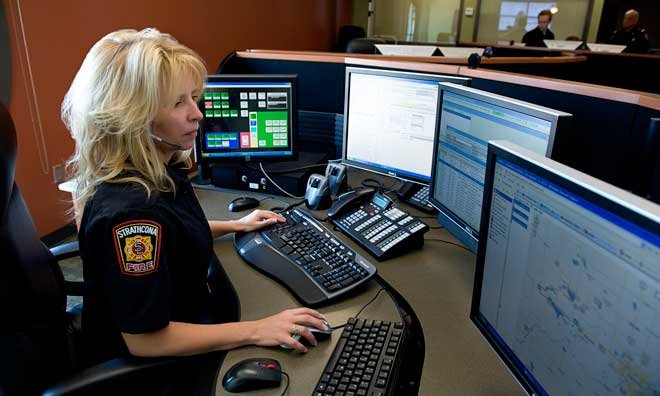 COVID-19 response
Tips for calling 9-1-1 for a medical emergency during the COVID-19 pandemic
Call 9-1-1 if you are seriously ill and need immediate medical attention. Inform them that you or a family member may be sick or monitored for COVID-19. It is important to answer all of the dispatcher's questions honestly and listen carefully to their instructions. These questions are not delaying the response, they are to ensure the safety of the responding members. Letting them know in advance can help them prepare with the correct personal protective equipment (masks, gloves, gowns or face shields) so they can help you as quickly as possible.
Dispatchers may ask you to wait outside and not approach the responders until they tell you it is ok. Responders may ask you to put on a mask when they arrive.
From Alberta Health Services
Last modified: July 15, 2021, 10:25 a.m.
Call 9-1-1 to:
save a life
report a fire or
stop a crime
All calls placed to 9-1-1 must be answered; however, phones can get busy during a major emergency or if multiple people call about the same emergency. Calls may be put in a holding queue or be rerouted to another centre that is available to take the call immediately. Be sure to indicate which municipality you are calling from to ensure that your call gets sent to the appropriate communications centre. This is especially true if calling from a cell phone. 
Know what is going on before you call
Be prepared to answer the follow:
What's the address of the emergency? If you are calling from a multi-family dwelling (e.g. senior's lodge, condominiums or apartment complex), know the name of the building and the room number.
What's the phone number you're calling from? Try to call from a land line if possible so the Emergency Communications Operator (ECO) can call you back if necessary.
What's the problem? 
If the problem is medical related, the ECO will want to know how old the casualty is (approximately), what their level of consciousness is and if the casualty is breathing.
If the problem is fire related, the ECO will want to know if you and others are safe and out of danger.
You may be put on hold, but do not hang up. The ECO will come back and may ask more questions. Try to be brief. If you don't know the answer to the question, simply say that you do not know. 
If there are special instructions on how to get into the building or to the location of the emergency, let the ECO know. 
About the Strathcona Emergency Communications Centre
The Strathcona Emergency Communications Centre (ECC) provides 9-1-1 services and fire dispatch for a number of local communities. Our ECC is ISO 9001:2015 certified.