Emergency Communication Operators
It's National Public Safety Telecommunicators Week
They are the voice of calm on your worst day and one week out of each year, we honour the hard-working Emergency Communication Operators (dispatchers) for the role they play in public safety.
April 11-17, 2021 is National Public Safety Telecommunicators week. We appreciate all of our Emergency Services Communications Centre personnel and their colleagues across Canada! Thank you for your service and always answering the call for help!
A dispatcher's job is a complicated one. It is exciting, rewarding and fulfilling. It is also stressful, exhausting, thankless and forgotten by so many. They use only their voices to calm callers down and do their very best to help them until other first responders arrive on the scene. Dispatchers do this without seeing a scene, only imagining what must be happening on the ground.
Check out these videos below to learn some tips from our Emergency Communications Operators on how to help them, get the help you need.
What questions will they ask me?
Is there a difference when calling on a landline and a cell phone?
Lock it before you pocket
COVID-19 response
Tips for calling 9-1-1 for a medical emergency during the COVID-19 pandemic
Call 9-1-1 if you are seriously ill and need immediate medical attention. Inform them that you or a family member may be sick or monitored for COVID-19.
It is important to answer all of the dispatcher's questions honestly and listen carefully to their instructions. These questions are not delaying the response, they are to ensure the safety of the responding members.
Letting them know in advance can help them prepare with the correct personal protective equipment (masks, gloves, gowns or face shields) so they can help you as quickly as possible. Dispatchers may ask you to wait outside and not approach the responders until they tell you it is ok. Responders may ask you to put on a mask when they arrive.
From Alberta Health Services:
COVID-19 Online Self-Assessment
Learn More About Self-Isolation
Symptoms
COVID-19 vs. Influenza
Meet an Emergency Communications Operator!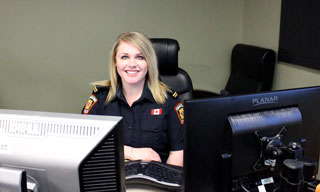 DeAmber is an Emergency Communications Officer
Meet DeAmber, she is an Emergency Communications Operator in Strathcona County's 9-1-1 Public Safety Answering Point and Fire Dispatch Centre located at Fire Station 1 in Sherwood Park. She and the other operators answer 9-1-1 calls and dispatch fire units in Strathcona County plus 43 municipalities in Alberta.  
Learn more about being an Emergency Communications Operator with our Q&A with DeAmber.
What training do you need for this position?
You need Emergency Fire Dispatch certification through the National Academy of Emergency Dispatch (NAED) or completion of an Emergency Communications and Response Diploma from MacEwan University, CPR/First Aid and AED. Having your Emergency Medical Responder registered with Alberta College of Paramedics is a bonus. Once you are on the job, you are continually learning and being recertified. 
What do you find most rewarding about your job?
The ability to make a positive influence in someone's day, by providing the best service and care possible to those that we serve. I also am fortunate enough to work with an amazing team of people who work together to better the lives of others.
What is the biggest challenge in your job?
Every part of our job is challenging and rewarding at the same time.
What has been the highlight of your career?
Hands down helping to bring a baby into the world… over the phone!
What advice would you give callers when calling 9-1-1 that would help dispatch?
The most important information you can give us is your location and what the nature of your emergency is. We understand that sometimes you are driving and are unsure of where you are, but in order to get help to you quickly we need to know the location of the emergency, whether that be a street address, an intersection or a landmark. We do have GPS capabilities for cellphone callers but dependent on what cellphone tower they bounce off of they are not always accurate.
If you pocket dial 9-1-1 by accident, stay on the line and let us know you dialled in error. If we can't reach you on call back we put the call through to RCMP to ensure you are safe and everything is okay.