Family and Community Services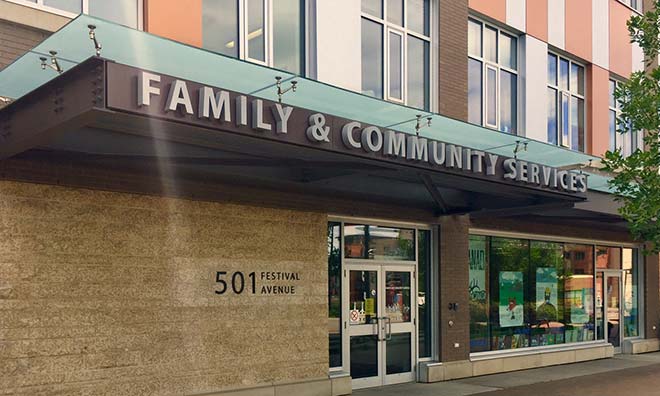 Office Location
200, 501 Festival Avenue  
(Second floor)
Sherwood Park, Alberta
Google Map
Hours
Monday through Thursday
8:00 a.m. to 9:00 p.m.
Fridays
8:00 a.m. to 4:30 p.m.
Summer hours
Beginning July 3:
Monday, Wednesday and Friday: 8 a.m. to 4:30 p.m.
Tuesday and Thursday: 8 a.m. to 8 p.m.
About Family and Community Services
Family and Community Services is a partnership between the Alberta Government and Strathcona County. Our goal is to help build a safe, supported, and connected community that encourages the well-being of children, youth, adults, older adults and families.
We believe that self-help contributes to a sense of integrity, self-worth and independence. Our programs are intended to help individuals adopt healthy lifestyles, thereby improving their quality of life and strengthening their ability to prevent and/or deal with crisis situations should they arise.
We provided a range of supportive programs and services for residents of Strathcona County. We are continually seeking opportunities and partnerships to work together to meet the existing and emerging needs in our community. 
Our Priorities
Family and Community Services renewed its social direction in 2017. Over 8,000 local voices helped set the direction for meeting the varying social needs of Strathcona county. These conversations allowed for a better understanding of our community's social priorities and experiences, and lead to the development of a community-authored Social Framework.
The renewed Social Framework presents an intentional shift on how we collectively work together on what matters most to our community:
Affordability
Access to programs and services 
Safety
Overall feelings of connectedness and inclusion
For more information about the Social Framework:
Family and Community Services business plan (136.1 KB)
Business plan progress reports: