Recycling stations
Recycling services reopening
Community recycling services are reopening with modified hours.
Ardrossan Recycle Station Daily from 10 a.m. to 6 p.m.
Temporary site at 420 Streambank Ave Monday to Friday from 10 a.m. to 6 p.m.
Broadview Enviroservice Station Saturdays and Sundays from 10 a.m. to 6 p.m.
Please sort your items ahead of time to ensure drop-offs run quickly and smoothly.
strathcona.ca/recycle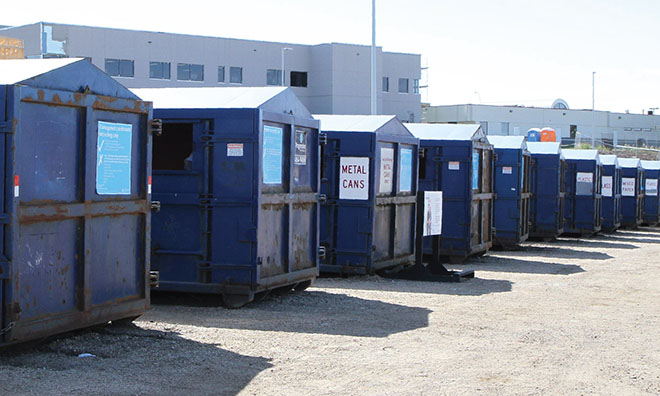 Strathcona County has two recycling stations,Broadview Enviroservice Station and Ardrossan Recycle Station, plus monthly recycling events in South Cooking Lake. To help residents manage their recycling during Covid-19 a temporary recycling site has been opened at 420 Streambank Ave.
Broadview Enviroservice Station
Ardrossan Recycle Station
80-3 Avenue, Ardrossan
Open seven days a week, from 10 a.m. to 6 p.m.
The Ardrossan Boy scouts help to keep this station clean - keep them safe!
South Cooking Lake monthly events
Temporary recycling site
Strathcona County has opened a temporary recycling site to help residents manage their short-term recycling, yard waste and waste during the COVID-19 pandemic. Please sort your items ahead of time to ensure only accepted items are brought to the site. Pre-sorting will also help the site run quickly and smoothly.
The temporary site is located at 420 Streambank Avenue in Sherwood Park
Monday to Friday from 10 a.m. to 6 p.m.
Items accepted at the temporary site
Household recyclables: Cardboard, mixed paper, glass, tin cans, large packing pieces of Styrofoam, and plastic containers and non-deposit tetrapacks
Residential yard waste: grass and leaves (needs to be debagged on site, in paper or compostable bags, or reusable containers) no loose loads, no brush
Health and safety
To ensure the health and well-being of all staff and other residents:
Please stay home if you are feeling sick or showing any symptoms of COVID-19
Follow the instructions of the attendant
Only 15 vehicles will be permitted at any given time
Keep at least 2 metres from others (physical distancing)
Avoid touching communal surfaces, and wash or sanitize your hands afterwards
Strathcona County will be following Alberta Health Services guidelines such as cleaning high contact points on a regular basis.
Residents can find up-to-date information on how to protect themselves and neighbours at strathcona.ca/covid19.
Questions about the temporary site
No, there will not be any free mulch at the temporary site.

Brush is branches and tree trimmings. We are unable accept branches over 4 feet long or more than 1 inch in diameter.

We are also unable to accept large loads of smaller brush at the temporary site because we do not have enough space to manage it. A few branches is ok (picture the amount that would fit in your green cart), but a full truckload will need to be taken to the City of Edmonton waste management centre where fees may apply.

We won't have the resources onsite, nor the equipment, to assist with additional handling that is common with larger items.

The intent is to allow residents that are struggling with capacity in their black cart to dispose of limited amounts of extra waste. It is not an opportunity to get rid of spring-cleaning materials or large items. Residents are asked to hold on to those materials until businesses that accept donations re-open.

Household hazardous waste such as used oil, electronics and paint
Styrofoam
Large furniture and appliances or other large waste or metal items
Large amounts of waste
Tires
Large volumes of trees and brush
Only residential yard waste will be accepted, landscapers and yard waste contractors will have to find alternative disposal options

Please continue to hold on to these materials until Broadview Enviroservice Station reopens.

Most residents have enough space in their black carts at the current waste collection frequency.

Try to maximize space in your black cart by ensuring everything that is an organic material, or an acceptable blue bag item is placed in the right spot. Did you know that 45% of what is still being thrown out in our black carts is organic materials? The bulk of this material is pet waste, wasted food and compostable paper products (i.e. napkins, tissues and paper towel).

If you find you consistently do not have enough space, you can request a second black cart by calling 780-449-5514. Additional fees will apply.
Please check where and when you can drop off your materials before leaving using the chart below.
Type of material
Broadview
Temporary Site
Ardrossan
South Cooking Lake
 

Saturday - Sunday
10 a.m. to 6 p.m.

Monday - Friday
10 a.m. to 6 p.m.
Daily
10 a.m. to 6 p.m.
Last weekend
of the month
Recycling (paper, cardboard, glass, plastic, etc.)
✔
✔
✔
✔
Styrofoam and Tetra Paks
✔
✔
 
 
Yard waste (leaves and grass)
✔
✔
 
 
Brush (standard truck bed load - 4'x8'x2' max)
✔
 
 
 
Tires
✔
 
✔
 
Electronics
✔
 
 
 
Hazardous wastes, paint, oil, propane tanks, batteries, etc.
✔
 
 
 
Small waste items* / household waste*
✔
 
 
 
Furniture* / mattresses*
✔
 
 
 
Appliances and metal
✔
 
 
 
Organics
✔
 
 
 
*Fees may apply
We thank residents for their continued understanding, as we continue to support measures to limit the spread of infection and, ultimately, to keep our employees, customers, community and visitors healthy and safe.
Utilities
Phone: 780-449-5514
greenroutine@strathcona.ca