Recycling stations
Pesticide and fertilizer container recycling
Strathcona County now offers collection for agriculture pesticide and fertilizer containers at the Ardrossan recycle station. Please ensure that these materials follow CleanFarms guidelines.
Last Modified: July 14, 2021, 4:21 p.m.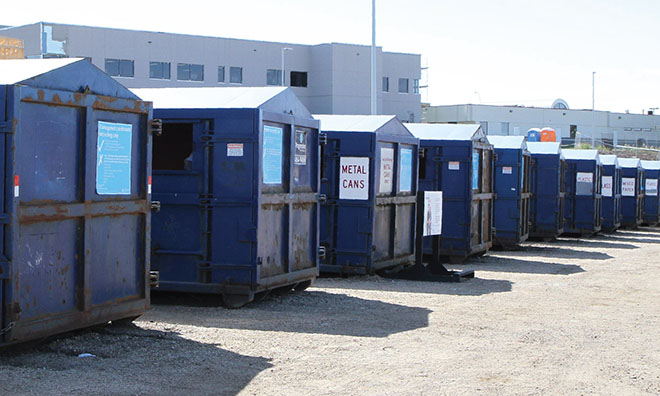 Strathcona County has two recycling stations,Broadview Enviroservice Station and Ardrossan Recycle Station, plus monthly recycling events in South Cooking Lake.
Broadview Enviroservice Station
Ardrossan Recycle Station
80-3 Avenue, Ardrossan
Open seven days a week, from 10 a.m. to 6 p.m.
The Ardrossan Boy scouts help to keep this station clean - keep them safe!
Starting June 16, 2021 Ardrossan Recycle station will be offer a ClearFarms collection bin for empty agriculture pesticide and fertilizer containers. Please ensure that these containers follow CleanFarms guidelines, retailers should provide the required bags at the time of purchase.
South Cooking Lake monthly events
Health and safety
To ensure the health and well-being of all staff and other residents:
Please stay home if you are feeling sick or showing any symptoms of COVID-19
Follow the instructions of the attendant
Only 15 vehicles will be permitted at any given time
Keep at least 2 metres from others (physical distancing)
Avoid touching communal surfaces, and wash or sanitize your hands afterwards
Strathcona County will be following Alberta Health Services guidelines such as cleaning high contact points on a regular basis.
Residents can find up-to-date information on how to protect themselves and neighbours at strathcona.ca/covid19.
Please check where and when you can drop off your materials before leaving using the chart below.
Type of material
Broadview
 
Ardrossan
South Cooking Lake
 

Recycling Services
Daily 9 a.m. to 6 p.m.
and 8 p.m. on Thursdays

 
Daily
10 a.m. to 6 p.m.
Last weekend
of the month
Recycling (paper, cardboard, glass, plastic, etc.)
✔
 
✔
✔
Styrofoam and Tetra Paks
✔
 
 
 
Yard waste (leaves and grass)
✔
 
 
 
Brush (standard truck bed load - 4'x8'x2' max)
✔
 
 
 
Tires
✔
 
✔
 
Electronics
✔
 
 
 
Hazardous wastes, paint, oil, propane tanks, batteries, etc.
✔
 
 
 
Small waste items* / household waste*
✔
 
 
 
Furniture* / mattresses*
✔
 
 
 
Appliances and metal
✔
 
 
 
Organics
✔
 
 
 
Agriculture Pesticide and Fertilizer Containers
 
 
✔
 
*Fees may apply
We thank residents for their continued understanding, as we continue to support measures to limit the spread of infection and, ultimately, to keep our employees, customers, community and visitors healthy and safe.
Utilities
Phone: 780-449-5514
greenroutine@strathcona.ca