Residential street snow removal
Freezing rain update - January 17
Freezing rain continues to impact winter maintenance operations. With crews focused on managing icy road conditions, please note the following:
Residential snow clearing will be delayed. Windrowing will continue, but some removal of windrows from the road will be delayed up to 48 hours. The clearing order has been updated with new dates and completed areas. Residential clearing is now expected to be complete by January 20.
Chip bins have run low and will not be restocked at this time. Central chip locations will remain fully stocked. Find a central location near you.
All available resources are focused on managing icy conditions in rural and urban areas, with high-speed, high-volume roads as the first priority. Take extra care on all roadways, sidewalks, trails and parking lots.
Last modified: Jan. 17, 2022, 4:27 p.m.
Residential snow clearing starts Monday
Residential snow clearing is scheduled to begin on Monday, January 10 in Sherwood Park. 
Watch for large orange signs posted in your neighbourhood that include dates for snow clearing in your area. Parking is not permitted on residential streets as during the posted dates. 
Note: Vehicles should be removed as of 12:01 a.m. of the initial date range.
During residential clearing, residents may park on streets marked with permanent "snow route when declared signs", as these roads have already been cleared.  
See the clearing order or monitor progress on the map below.
Last modified: Jan. 17, 2022, 9:26 a.m.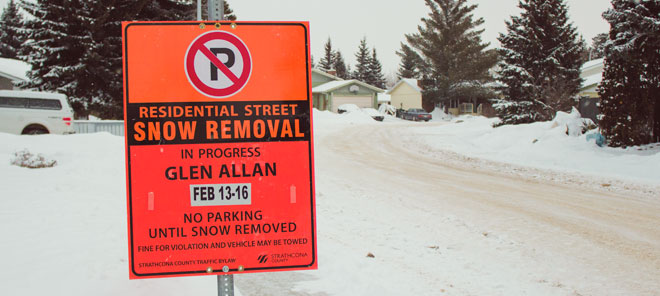 Residential streets are classified as Priority 4 roads and are cleared when the snow depth reaches 10 centimetres of compacted snow before January 1, or 7 centimetres after January 1. 
Watch for orange Residential Street Snow Removal signs posted in your neighbourhood.
Signs will include dates parking is not permitted.
It may take up to 10-12 days to remove the snow from all neighbourhoods in Sherwood Park.  
---
Please remove vehicles from the road
When the orange signs are posted in your neighbourhood, remove all vehicles from residential streets during the posted timeframe, or you will be towed and fined. During this time, parking is permitted on collector roads (190.9 KB)  marked with "snow route when declared" signs.
---
Residential snow depth measurement
After a snowfall, County crews measure 26 locations throughout Sherwood Park to get an average depth of compacted snow. This measurement is used to determine when residential snow removal is required. Measurements are updated every two weeks, depending on snow accumulation.
Current compacted snow depth: 7.5 cm
Last updated: December 30, 2021
---
Follow along with our clearing progress
The residential snow clearing map allows users to follow along with our snow clearing progress.
Residential street snow removal starts Monday, January 10.
---
Stay in the know
You can find out about residential parking restrictions through:
Watch for digital signs at main entrances to Sherwood Park 
SC Alerts is only available for snow route parking ban notifications due to the more emergent nature of the ban.
County Connect
Ask a question, provide feedback or report an issue.