Residential snow clearing
Residential street clearing NOT in progress
Parking is permitted on all residential streets in Sherwood Park.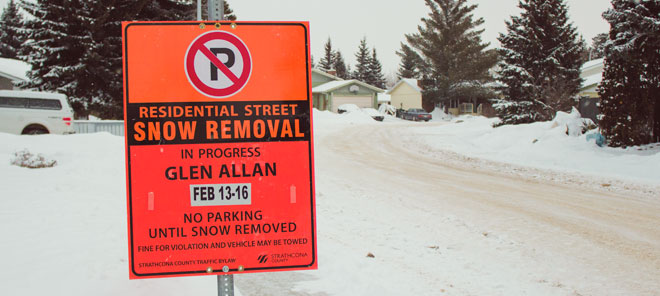 Residential streets are classified as Priority 4 roads and are cleared when the snow depth reaches 10 centimetres of compacted snow before January 1, or 7 centimetres after January 1.  Compacted snow depth is measured every two weeks at 26 locations throughout Sherwood Park. The measurements of these streets are then averaged to determine the need for snow removal.
Watch for Residential Street Snow Removal in progress posted in your neighbourhood.
Signs will include dates parking is not permitted.
It may take up to 10-12 days to remove the snow from all neighbourhoods in Sherwood Park.  
---
Please remove vehicles from the road
Remove all vehicles from residential roads during your neighbourhood's posted timeframe, or you will be towed and fined. Parking is permitted on collector roads (192.0 KB)  marked with "snow route when declared" signs.
---
Follow along with our clearing progress
Our residential snow clearing map is a web-based, interactive map allowing users to follow along with our snow clearing efforts and see which roads have been cleared and are being worked on.
Snow removal NOT currently in progress
---
Stay in the know
You can find out about residential parking restrictions through:
Watch for digital signs at main entrances to Sherwood Park 
SC Alerts is only available for snow route parking ban notifications due to the more emergent nature of the ban.
Frequently asked questions
Residential roads are cleared when they reach a minimum compacted snow depth of 10 cm before January 1 or 7 cm after January 1. See the latest measurement.

Large orange signs will be placed in your neighbourhood at least 24 hours before snow clearing is scheduled to take place. These signs will include a date range for snow clearing dates when parking is not permitted.

Once we start, it can take up to 12 days to clear the snow on all residential streets. If there is snowfall during the process, residential clearing could be delayed as crews must attend to roads with higher traffic volumes.

During residential street clearing, parking is permitted on collector roads marked with "snow route when declared" signs.

Vehicles parked on residential roads when snow clearing is scheduled to take place will be towed, and the owner will be issued a $250 ticket.
County Connect
Ask it, report it or suggest it using County Connect