Strathcona County brand
Coat of Arms
Strathcona County unveiled its coat of arms September 9, 2015. The design reflects and celebrates the County's history, heritage and culture, while upholding the character of the brand identity. Unlike the County logo, which is used extensively, the coat of Arms is reserved for official use by Mayor and Council (letterhead, pins) and for ceremonial purposes (e.g., County flag). See the full description of Strathcona County's Coat of Arms.
We have built our brand around what matters most to the community. A community brand allows us to define our unique community and share it with others.
Strathcona County's brand is defined by the community's:
"Can do" spirit: the community is supported and uplifted by social and economic risk-takers, leaders and innovators.
Quality of place: as reflected in the words "Living. Refined," which speak to the energy of our people, who contribute to Strathcona County being a preferred community (in recreation, cultural and services infrastructure excellence), as well as the community's status as an energy engine. 
Deeply-rooted value system: built on determination, honesty, integrity, freedom, personal responsibility, self-esteem and compassion.
County logo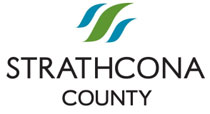 Strathcona County's logo reflects the essence of the community. Our logo consists of three stylized Ss, in a wave pattern, which represent Strathcona County (blue) and Sherwood Park (blue), which are joined in the common pursuit of sustainability (green). 
Permission and use of the logo
The Strathcona County logo cannot be used without expressed permission. Please contact Strathcona County Communications for more information. 
Specific information regarding use of the Strathcona County logo can be found within the logo use section of the visual identity guide. (601.7 KB)