Logo, flag and coat of arms
Strathcona County logo 
Strathcona County's logo represents our community's energetic spirit, super-powered by people who shape success in all its forms. The logo is contemporary, yet simple, clean and sophisticated, in keeping with the essence of the community's brand - Living. Refined. The wave pattern's three stylized Ss, represent Strathcona County (blue), Sherwood Park (blue), joined in the common pursuit of sustainability (green). 

It is an extension of our Strathcona County brand, and is an official mark used for day-to-day administration and business activities.
Permission & use of the logo
The Strathcona County logo cannot be used without expressed permission. Please contact Strathcona County Communications for more information. 
Specific information regarding use of the Strathcona County logo can be found within the logo use section of the visual identity guide. (601.7 KB)
The flag 
Strathcona County's flag is blazoned with the coat of arms. 

Coat of Arms
Strathcona County's Coat of Arms was adopted in September 2015. The design reflects and celebrates the County's history, heritage and culture, while upholding the character of our brand identity.
The coat of arms is reserved for official use by Mayor and by Council, and for ceremonial purposes.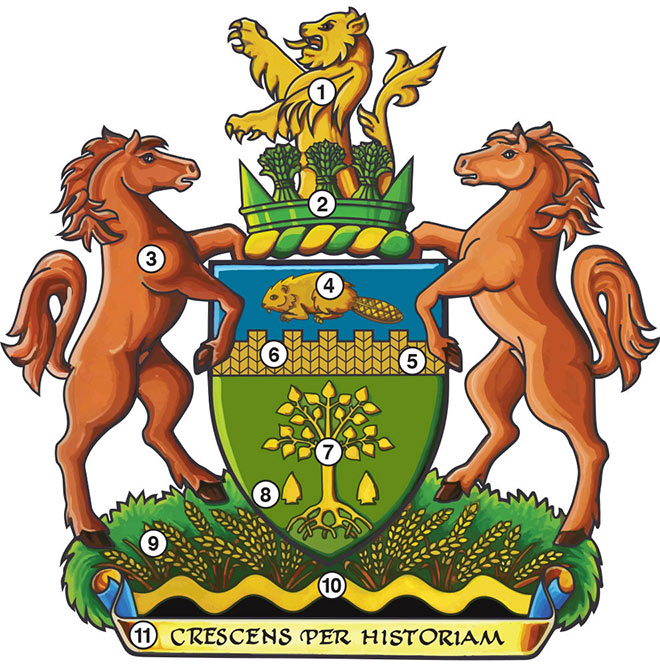 Lion represents our namesake, Lord Strathcona
Coronet inspired by the Scots word "Strath", a valley between a chain of hills
Horses were used by the Aboriginal people and were essential to early settlers
Beaver, a dominant species in the Beaver Hills Moraine, is significant to the fur trade.
Wheat patterns for the new crops of the settler era
Embattled edge looks like an urban skyline
Aspen poplar tree for growth and renewal, and roots for community
Many arrowheads of the Aboriginal people have been found in Strathcona County
Oats and the grassy mound signify a strong agricultural industry
Black and gold wavy bar flows like the movement of oil, symbolizing the refining industry.
Translates to Growing through History