Traffic signals
Strathcona County relies on state-of-the-art technology to keep traffic moving smoothly. Transportation engineers and technicians operate and monitor traffic flows using high performance computers, specialized traffic analysis software, advance traffic management systems, electronic/electrical equipment, and traffic control devices.
There are approximately 88 traffic signals that Strathcona County owns and operates.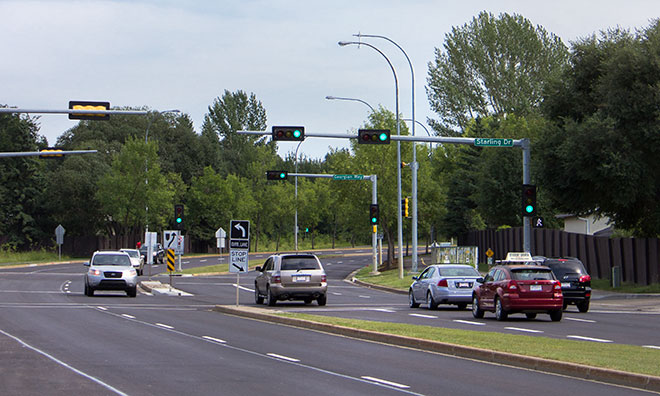 The Planning, Engineering and Safety branch of Transportation Planning and Engineering oversees the design and construction of the County's traffic signals while the Right-of-Way Management branch of Transportation and Agriculture Services manages the operation and maintenance of the County's traffic signals
Although traffic signals may seem simple, in reality, their management and operation are very complex. Small changes in one part of the system may have impacts in other areas; therefore, decisions made in traffic signal operation must consider all road users.
Signal coordination and timing
Signal length
The operating cycle lengths in Sherwood Park range from 80 seconds to 140 seconds. The level of traffic volumes at every intersection is different; however, traffic signals must operate on the same cycle schedule in order to maintain the signal coordination. In other words, a long cycle length used at a busy intersection must also be operated for intersections that have lighter traffic volumes. This can seem unnecessarily long to individuals at the intersection with lighter volume, but it is necessary to maintain the coordination of all intersections.

Any wait times longer than two and a half minutes are not normal and should be reported to us through County Connect. We strive to use the latest technology in vehicle and pedestrian detections, but these devices are not fail proof.

Many drivers ask why they have to wait so long for a signal to change, particularly when waiting to enter a major arterial street from a side street. It is likely a result of the direction you are travelling. The overall network looks to balance the experience of all users. If you notice you are the only vehicle waiting, you are likely travelling against the primary flow of traffic.
Vehicle detection at traffic signals
Pedestrian signals
There are usually two types of crosswalks installed at a signalized intersection:

Automatic triggered crosswalks
Electronically triggered crosswalks

For automatic triggered crosswalks, you do not need to press a pedestrian pushbutton to cross. The "Walk" and "Flashing Don't Walk" signals are turned on automatically every signal cycle. This type of crosswalk does not have designated pedestrian pushbuttons and signs.

For electronically triggered crosswalks, when a pedestrian pushes the button, a call is sent to the signal controller to turn on the "Walk" and "Flashing Don't Walk" signals. The pedestrian pushbutton must be pushed for the pedestrian signals to appear. The signals will not usually change immediately but the controller will fit the pedestrian signals into its programmed operation for the particular time of day. The signal controller registers the first time the button is pushed and remembers it until the walk light comes on.

Pushing the pedestrian button repeatedly or harder will not make the walk signal appear sooner. The electronically triggered crosswalks always pair with designated pedestrian pushbuttons and signs. It is important to push the button for the appropriate crosswalk because pressing the wrong button will reduce the intersection efficiency.

If the button is pushed after the light is already green in the desired crossing direction, the walk light will come on the next cycle because there is not enough time for the signal controller to activate the walk phase of the current cycle.

Questions and/or concerns about traffic signal operations, as well as requests for traffic signal installation, should be sent through County Connect.
Left-turn lane changes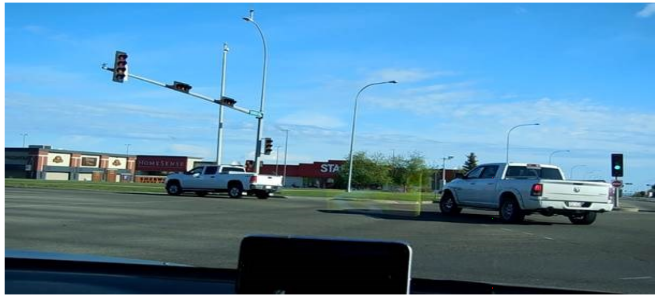 At several County intersections, you will notice that dual left-turn lanes have been changed to single lanes. Drivers turning left at these intersections will now be able to do so for the duration of a green light, instead of during a green arrow light only.   
As seen in the photo above, when two vehicles are turning at the same time, sightlines can be restricted. Consequently, collisions in dual left-turn lanes are more frequent and severe than in single turn lanes.
In Strathcona County, there are several intersections that have less traffic volume and do not warrant double left-turn bays at this time.
By changing these intersections to single-lane only left turns with protected permissive signals (green arrow and green ball lights), we can defer the need to install protected only (green arrow only) left turn signals in order to maintain the efficiency of traffic flow and reduce wait times. These intersections will be monitored to ensure results are as expected.
The County will continue to upgrade the left turn signals to "protected only" for remaining locations with dual left-turn lanes.
Frequently asked questions
County Connect
Ask it, report it or suggest it using County Connect