Nomination Day: Candidate list
September 20, 2021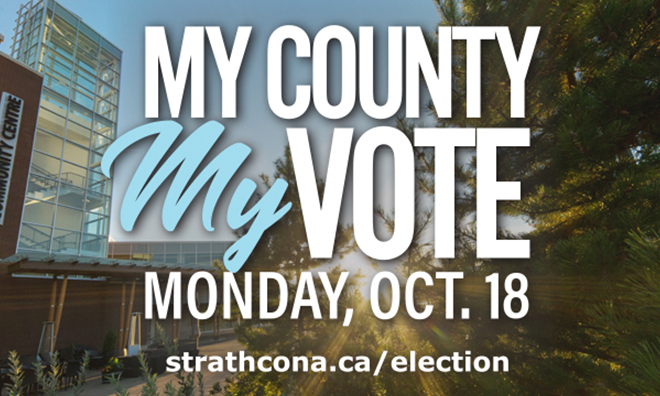 Strathcona County 2021 Municipal Election
Today is Nomination Day for the Strathcona County 2021 General Municipal Election. The following individuals are the official candidates for the positions of Mayor and Councillor.
Candidates for Mayor
BIEL, Al
DIXON, David
FRANK, Rod
McKITRICK, Annie
QUEST, Dave
Candidates for Councillor
Ward 1
Ward 2
BEST, Doug
ANDERSON, Dave
McCARTNEY, Ray
GOULET, Leonard
PARKS, Robert
 
WIELENS, Paul
 
 
 
Ward 3
Ward 4
BOTTERILL, Brian
BELL, Hugh
HARVEY, Lorne
CAMERON, Isaac
KRUGER, Teunis
TONITA, Bill
 
 
Ward 5
Ward 6
LARSON, Leighton
DUNN, Alan
MARLER, Daryl
GAGE, Vaun
NELSON, Aaron C.
HARTWICK, Corey-Ann
TIMPERLEY, Ken
 
 
 
Ward 7
Ward 8
BOHAYCHUK, Dylan
ABDULLA, Rahat
GRABILL, Harvey
BERGHOFER, Katie
LAWRENCE, Glen
 
Candidate contact information is posted on the Strathcona County website.
Election Day is Monday, October 18, 2021. The lists of candidates running for School Trustee are available on the Elk Island Catholic Schools and Elk Island Public Schools websites. Candidate contact information is posted on the Strathcona County website.
"Where to Vote" cards will be delivered to all Strathcona County households at the end of September/beginning of October. The card will include details on where to vote, and a list of official candidates.

Electors can cast their vote as early as October 4, the first day of the Advance Vote period. Electors can choose to vote at one of the 24 Advance Vote opportunities that run October 4 through 16 or on Election Day (October 18).
Strathcona County is excited to offer a new, innovative way to vote. Drive-thru voting will be available during the Advance Vote period at the Broadview Enviroservice Station, 101 Broadview Road in Sherwood Park, on October 4, 5, 6, 11, 12 and 13, running 10 a.m. – 6 p.m. each day.  
To vote by mail, electors can also request a Special Ballot from the Election Office.
Election Office
140, 501 Festival Avenue
Phone: 780-400-3800
Email: election@strathcona.ca
Advance Vote dates, times and locations, the "Where Do I Vote?" app, and all 2021 Municipal Election information are available at strathcona.ca/election.
In conducting the election, the County will follow all COVID-19 safety protocols.
- 30 -
Contact: Strathcona County Communications, 780-410-6595