Strathcona County transit service levels for fall 2020
August 24, 2020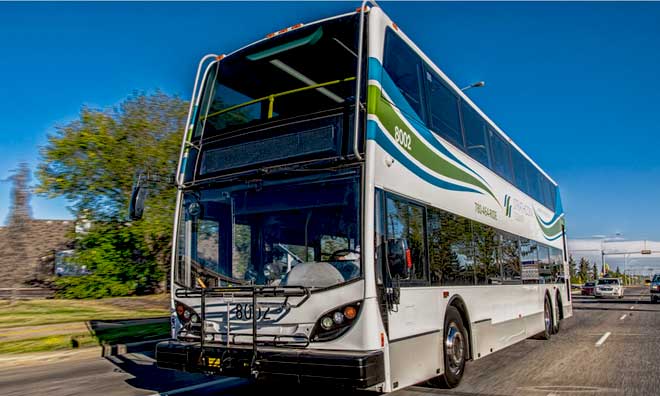 Beginning August 30, 2020, Strathcona County Transit will introduce modified service levels for local and commuter routes.
Full-service transit will be offered on commuter route 411 into Edmonton, departing from the Bethel Transit Terminal. Reduced service levels will be maintained on all other commuter and local routes, excepting local school trips.
Ridership is expected to increase on some commuter routes as residents return to work and school downtown; however, as most post-secondary programs will primarily be offered by distance, student ridership levels to Edmonton institutions are anticipated to remain low.
Downtown Edmonton commuter services and local school trips will increase in frequency while all other services will remain at 30-minute frequencies throughout the day. Strathcona County will continue to monitor ridership and adjust services to respond to any change in commuter or local service needs.
Set in the centre of Alberta's energy and agricultural heartland, Strathcona County is a thriving, successful and vibrant community of over 98,000 residents. Strathcona County is made up of the urban area of Sherwood Park and a large adjacent rural area of farms, acreages and smaller hamlets. It is home to 75 per cent of hydrocarbon processing in Western Canada. Strathcona County is a leader in environmental conservation, and 55 per cent of its land is within the UNESCO Beaver Hills Biosphere. With a focus on economic, governance, social, cultural and environmental sustainability, Strathcona County is committed to balancing the unique needs of its diverse community.
- 30 -
Contact: Strathcona County Communications, 780-410-6595