County residents invited to "Pitch-in" within their neighbourhoods
May 13, 2020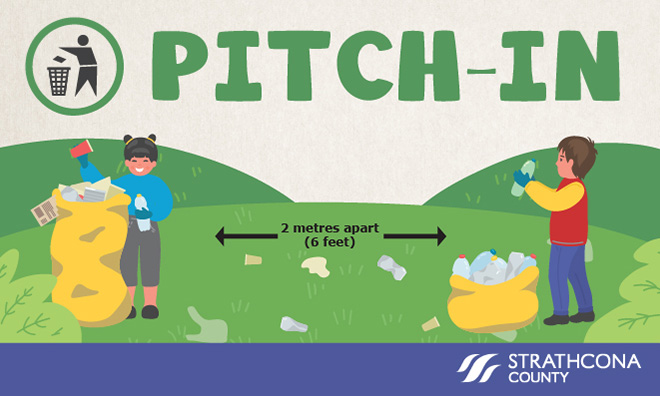 Strathcona County residents are invited to show their community pride and "Pitch-In," with litter removal from May 16 to 24.

This annual campaign helps remove litter left behind after the spring thaw. In 2019, more than 1,550 bags of garbage were collected in Strathcona County, thanks to the work of 6,123 volunteers.

This year, families and individuals are encouraged to join the clean-up effort in their own neighbourhoods. Due to the current public health recommendations, participants are asked to provide their own garbage bags and register for "Pitch-In" online.

To participate, visit strathcona.ca/pitchin to submit a registration form and County staff will confirm the dates and location of clean-up to coordinate pick-up of the garbage bags. 

To stay safe outdoors and help prevent the spread of COVID-19, participants should be in groups of less than 15 people, practice physical distancing of 2 metres (6 feet) from others (unless they are from the same household), avoid touching communal surfaces, wash and sanitize their hands frequently and only share equipment with members of their household.

For more information visit strathcona.ca/pitchin or call 780-467-2211.

Set in the centre of Alberta's energy and agricultural heartland, Strathcona County is a thriving, successful and vibrant community of over 98,000 residents. Strathcona County is made up of the urban area of Sherwood Park and a large adjacent rural area of farms, acreages and smaller hamlets. It is home to 75 per cent of hydrocarbon processing in Western Canada. Strathcona County is a leader in environmental conservation, and 55 per cent of its land is within the UNESCO Beaver Hills Biosphere. With a focus on economic, governance, social, cultural and environmental sustainability, Strathcona County is committed to balancing the unique needs of its diverse community.
- 30 -
Contact: Strathcona County Communications, 780-410-6595