Gallery@501 exhibit features local artist Paddy Lamb
February 25, 2020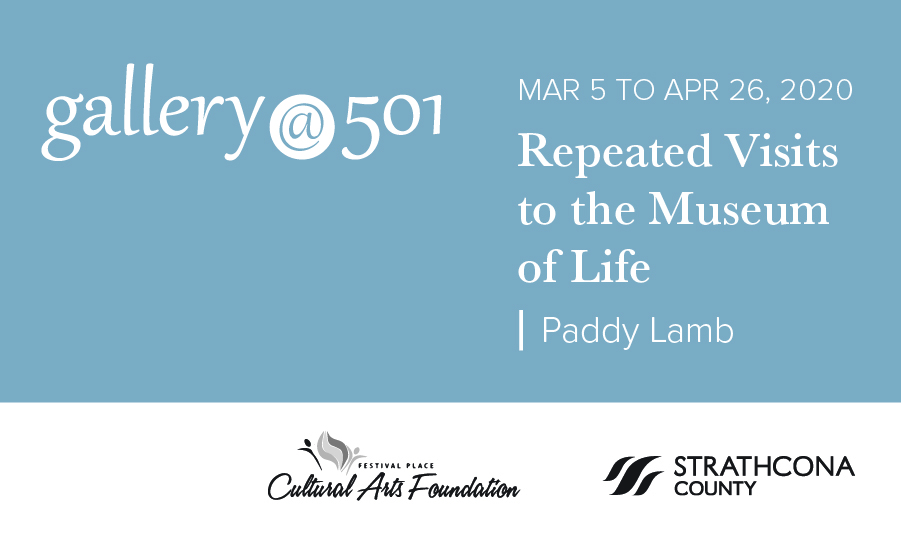 Gallery@501 is pleased to present Repeated Visits to the Museum of Life by local artist, Paddy Lamb. This exhibit opens March 5 and will be on display at Gallery@501 until April 26. The public is invited to attend the exhibit's opening reception on Thursday, March 5 at 7 p.m. at Gallery@501 (#120, 501 Festival Avenue, Sherwood Park).
Born in Ireland, Paddy Lamb moved to Canada in 1985 and is a graduate of the University of Alberta. His work is strongly influenced by history, memory and social culture, offering a personal narrative concerning human migration and attachment to the land. Repeated Visits to the Museum of Life features landscape-based art installations that reflect different eras of cultural heritage and challenge a traditional definition of commemoration or monument.
For more information about this exhibit visit strathcona.ca/gallery501 or call 780-410-8585.
 
Set in the centre of Alberta's energy and agricultural heartland, Strathcona County is a thriving, successful and vibrant community of over 98,000 residents. Strathcona County is made up of the urban area of Sherwood Park and a large adjacent rural area of farms, acreages and smaller hamlets. It is home to 75 per cent of hydrocarbon processing in Western Canada. Strathcona County is a leader in environmental conservation, and 55 per cent of its land is within the UNESCO Beaver Hills Biosphere. With a focus on economic, governance, social, cultural and environmental sustainability, Strathcona County is committed to balancing the unique needs of its diverse community.
- 30 -
Contact: Strathcona County Communications, 780-410-6595