Recreation Online launches in Strathcona County
February 21, 2020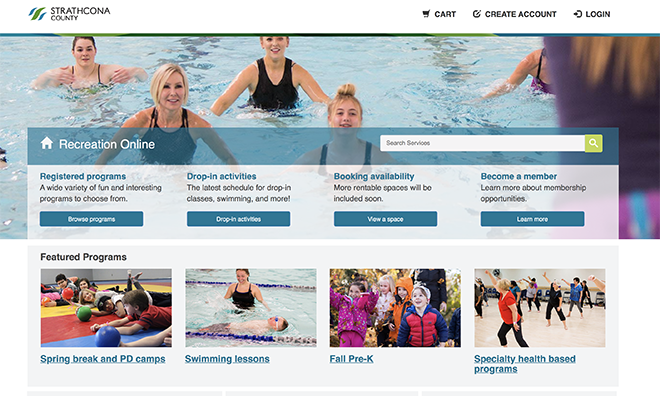 After much anticipation, Strathcona County's new program registration software, Recreation Online, has officially launched to the public at RecOnline.strathcona.ca.

The new system features an easy to use website, improved searching capabilities and a mobile friendly design.

New features include booking availability of select spaces managed through Recreation, Parks and Culture, program information and registration for Recreation, Parks and Culture and Emergency Services, drop-in activity information and membership opportunities including the Millennium Card, Gallery@501, Strathcona Wilderness Centre ski pass, Glen Allan Recreation Complex indoor court pass and the Flex Pass for fitness classes.

Residents can get ready for spring and summer program registration by creating a new account on Recreation Online or resetting the password on their existing account, if they had an active Click-it account before the transition.

Strathcona County's latest recreation guide, Spring | Summer + Camps, is available for pick up in most County facilities.

Upcoming registration dates include:
Spring break camps – Tuesday, February 25 at 7 a.m.
Spring and summer programs (including camps) – Tuesday, March 10 at 7 a.m.
Spring swimming programs – Tuesday, March 17 at 7 a.m.
Recreation Online replaces Click-it, Strathcona County's first online registration system, which launched in 2004. During the early days of online registration, about 12 per cent of registrations were completed using Click-it. Today, approximately 80 per cent of program registrations are completed online.

Visit strathcona.ca/RecOnline to learn more about Recreation Online or call 780-467-2211.
 
Set in the centre of Alberta's energy and agricultural heartland, Strathcona County is a thriving, successful and vibrant community of over 98,000 residents. Strathcona County is made up of the urban area of Sherwood Park and a large adjacent rural area of farms, acreages and smaller hamlets. It is home to 75 per cent of hydrocarbon processing in Western Canada. Strathcona County is a leader in environmental conservation, and 55 per cent of its land is within the UNESCO Beaver Hills Biosphere. With a focus on economic, governance, social, cultural and environmental sustainability, Strathcona County is committed to balancing the unique needs of its diverse community.
- 30 -
Contact: Strathcona County Communications, 780-410-6595