Strathcona County's Smeltzer House turns 100!
January 31, 2020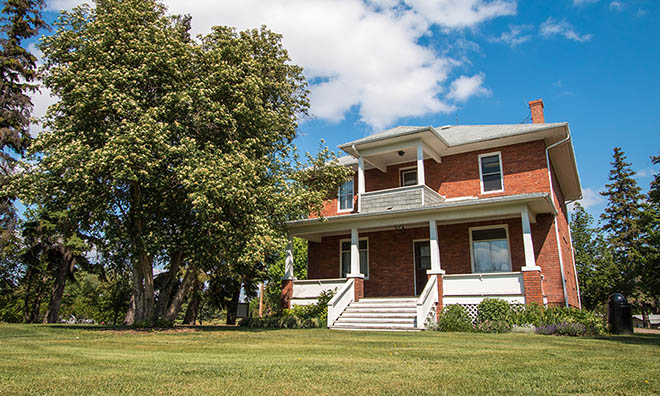 Built in 1920, Smeltzer House stands as a charming reminder of the early days of settlement in Strathcona County. As 2020 marks the 100 anniversary of this historic house, the County is marking this milestone with the Smeltzer House Centennial Celebration.
A free family-friendly community celebration takes place on Family Day, Monday, February 17. Come and learn about the Smeltzer family and house, the history of the area, and explore the uniqueness of this now modern-day visual arts centre. The event runs from 1 p.m. to 4 p.m., starting with opening remarks followed by activities including wagon rides, crafts, storytelling, ice sculptures, a taffy pull and light refreshments.
While today the house is nestled in a mature neighbourhood in Sherwood Park, one hundred years ago it was one of only a few dozen family homes in a close-knit farming district called Salisbury. This fine-looking Foursquare house built for Maurice Smeltzer and his family served as home to three generations and then witnessed—and survived—the shift from rural farmland to urban streets as a new town grew up around it. 
More information about Smeltzer House and local history, or about the event, is available at strathcona.ca/smeltzer100 or by calling 780-467-2211.
Set in the centre of Alberta's energy and agricultural heartland, Strathcona County is a thriving, successful and vibrant community of over 98,000 residents. Strathcona County is made up of the urban area of Sherwood Park and a large adjacent rural area of farms, acreages and smaller hamlets. It is home to 75 per cent of refining in Western Canada. With a focus on economic, governance, social, cultural and environmental sustainability, Strathcona County is committed to balancing the unique needs of its diverse community.
- 30 -

Contact: Strathcona County Communications, 780-410-6595