Snow route parking ban effective Wednesday, January 22
January 20, 2020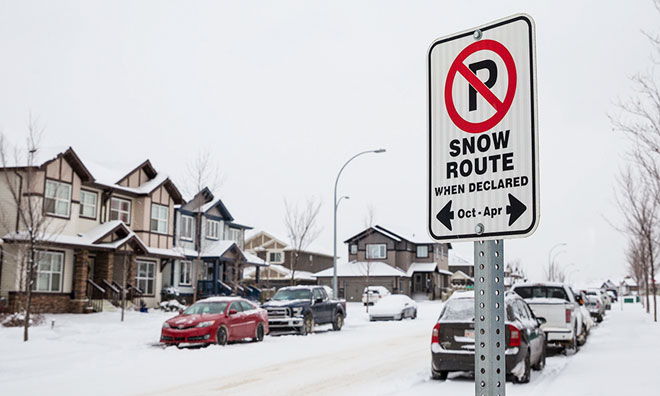 A snow route parking ban will go into effect on Wednesday, January 22 at 7 a.m. on all collector roads in Sherwood Park.
The parking ban applies to collector roads marked with permanent snow route signs. This does not include local residential streets in Sherwood Park. Residents are asked to remove their vehicles from the street to allow for safe and efficient snow removal.
Parking is permitted after the snow has been removed. Vehicles parked on collector roads during the parking ban will be towed, and the owner issued a $250 ticket.
To see a full list of snow routes in Sherwood Park or to monitor progress on the snow clearing map, visit strathcona.ca/parkingbans.
Parking ban information is available through:
•        SC Alerts
•        Twitter: @StrathcoCounty
•        Facebook: facebook.com/Strathcona.County
•        Digital signs on roadways
•        Local media

Set in the centre of Alberta's energy and agricultural heartland, Strathcona County is a thriving, successful and vibrant community of over 98,000 residents. Strathcona County is made up of the urban area of Sherwood Park and a large adjacent rural area of farms, acreages and smaller hamlets. It is home to 75 per cent of hydrocarbon processing in Western Canada. Strathcona County is a leader in environmental conservation, and 55 per cent of its land is within the UNESCO Beaver Hills Biosphere. With a focus on economic, governance, social, cultural and environmental sustainability, Strathcona County is committed to balancing the unique needs of its diverse community.
- 30 -
Contact: Strathcona County Communications, 780-410-6595