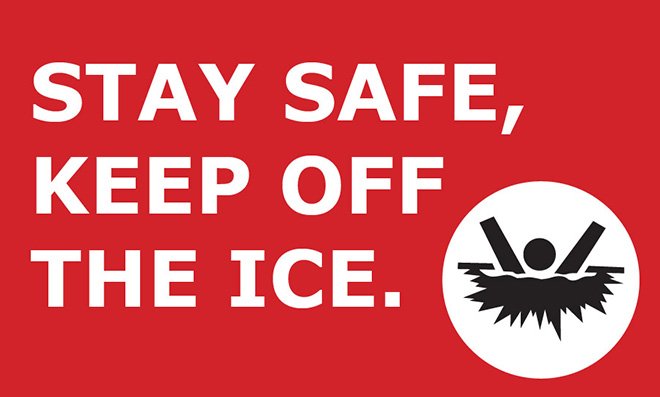 While they may look like community ponds, they are stormwater facilities, and danger lies beneath the surface.
Obey all posted signs – these include "thin ice", "no skating" and "keep off".
Stay off stormwater facilities. They're not safe for any use. Once frozen over, a stormwater facility may look safe, but it's what's below the surface that makes it different from ponds.

Stormwater facilities have an inlet and outlet pipe with water flowing much of the year. Moving water, water temperature changes due to vegetation or drainage and fluctuating weather conditions lead to unknown, unpredictable and dangerous ice conditions.
Keep safe. Choose a better place for recreation
Strathcona County offers a number of safe outdoor skating options including boarded rinks, snowbank rinks, and our new skating tracks.
All of the 'ponds' or 'lakes' within Sherwood Park are actually stormwater facilities. Educate yourself and your family on where to find safer sites to skate.
Remember, ice thickness is not an indicator of safety on these facilities.
If you see recreational activity on a stormwater facility, you can report it to the
RCMP and Enforcement Services
24-hour complaint line at 780-467-7741.
Call 9-1-1 if someone falls through the ice
If someone falls through the ice, don't go on the ice and try to pull them out... you may fall in too! Get help fast by calling out for help and calling 9-1-1.
FAQs
If they can't be used for recreation, what's the point of stormwater facilities?
Stormwater facilities reduce the risk of flooding. As part of the integrated drainage system, they have one job to do: reduce the risk of flooding our neighbourhoods.
Is there a fine for going on the stormwater facility ice?
Yes, violators may be charged for going on the stormwater facility surface. Residents are urged to keep off the ice. These man-made structures are not built for recreational use and even when the ice looks thick, it can be dangerous.
For more information about enforcement, please contact RCMP and Enforcement Services at 780-449-0170.
Additional ice safety information
The Lifesaving Society Alberta and Northwest Territories
780-415-1755 or visit http://www.lifesaving.org/
Questions about stormwater ponds
780-467-7785