Stormwater management system
Strathcona County Parks bylaw:
No person shall wade or swim in any stormwater management facility.
More information
Last modified: July 20, 2021, 1:22 p.m.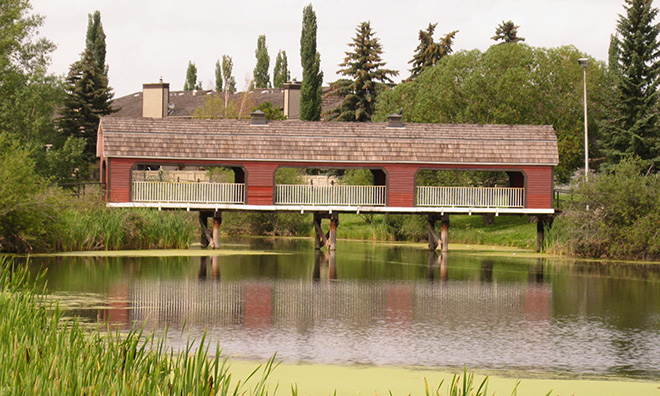 Stormwater ponds, along with dry ponds and wetlands, are part of the stormwater management system in Sherwood Park and are technically called stormwater management facilities.
Sherwood Park stormwater management facilities map
The stormwater management facilities:
gather rainfall and surface water runoff
reduce the possibility of flooding, erosion and property damage
provide a habitat for birds and animals
can be surrounded by natural vegetation
How the stormwater management system works
When it rains, the water enters manholes and catch basins on the street and flows through the storm sewer. Water then collects in one of the stormwater management facilities. The water can also go directly to an outlet that empties into a natural drainage area.
The water that accumulates in stormwater ponds, dry ponds and wetlands is released gradually back into the natural drainage system, avoiding erosion and flooding downstream.
It's important to remember that any type of surface water runoff, not just rainfall, can run into the storm sewer and collect in the stormwater management system. For example, when you wash your car on the driveway, that water ends up in the system. That is why you need to be careful with what you put into the storm sewers because it can end up in the stormwater system.
Spring stormwater odours
During the spring thaw, stormwater moving through the storm drains may have a rotten egg odour due to vegetation breakdown from the stormwater ponds. Plants in the storm water ponds die off, break down and rot. This breakdown is trapped under the ice covering the water body. Once spring thaw starts, the water with the vegetation runs down the storm mains and the odours come up through storm manhole lids and catch basins.
Once spring thaw is over, the odour should disappear.
Types of stormwater management facilities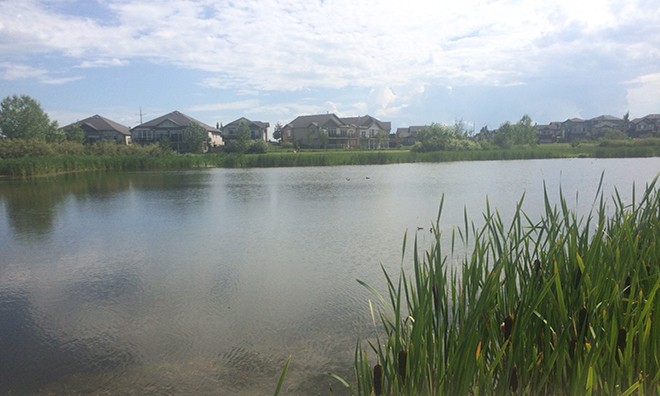 Stormwater ponds and wetlands
are man-made and function as part of the stormwater management system.
are surrounded by natural vegetation such as cattails, shrubs and grasses. There may also be underwater vegetation, and algae may form on the water surface.
collect runoff from streets, the ground surface and storm sewers. That runoff may contain residue from lawn fertilizers and chemicals, various organisms, animal wastes and similar substances.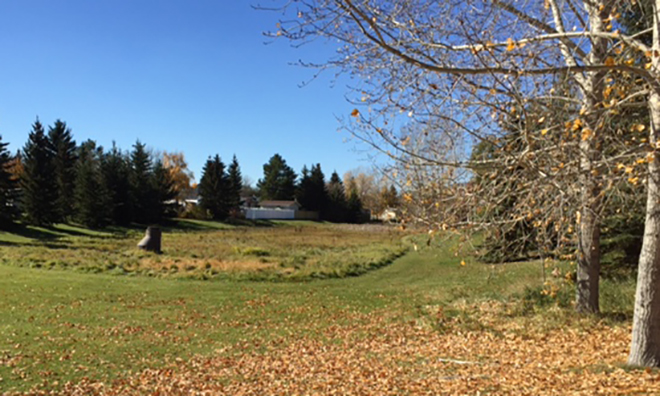 Stormwater dry ponds
are man-made and function as part of the stormwater management system.
look like dish-shaped grassed fields and may be used as informal play areas.
may temporarily fill with surface water runoff during heavy rainfall, but are generally dry.
Stormwater safety
Stormwater ponds collect all of the stormwater runoff from neighbourhood streets. This flowing water can take all types of contaminants along with it, making the water quality conditions unknown. In addition, the silty bottom of these facilities can be dangerous and people and pets can get stuck.
For health and safety reasons, Strathcona County Parks bylaw states that no person shall wade or swim in any storm water management facility. Further, any recreational activity near the water or contact with the water is not recommended.
Unacceptable recreational activities are located within the Parks Bylaw 21-2013 (section 13,14).
In winter, moving water and fluctuating weather conditions lead to unknown, unpredictable and dangerous ice conditions.
Stay safe, stay off stormwater ponds.
FAQ:
Is there a fine for swimming or wading in a stormwater facility?
Yes, violators may be charged for swimming or wading with the stormwater facility. Residents are urged to keep away. These man-made structures are not built for recreational use and even if they look shallow, can be dangerous.
Best management practices
Best Management Practices for Stormwater Management (1.2 MB)
Homeowner tips
See these videos from the Alberta Low Impact Development Partnership that show tips for homeowners:
Rain Gardens

Bioretention