Non-toxic polymers reduce sediment at Summerwood storm pond
How is stormwater managed in Strathcona County?
One significant concern that comes with increased residential development is stormwater management.
Larger urban centres with paved surfaces result in higher volumes on runoff which can lead to flooding, erosion and pollution of downstream creeks and lakes. Loss of wetlands and forested areas further add to the stormwater management problem.
Modern stormwater pond designs address water quality issues by adding natural vegetation, expanding buffer zones around the facilities, creating sediment collection ponds and encouraging biodiversity to mimic natural systems.
Before stormwater ponds can be completely effective, they go through stages of development along with their surrounding neighbourhood. During the initial construction phases, sediment loading can become a significant concern in stormwater ponds and downstream creeks.
Issue - High sediment loading in newly developed areas
Stripped land from residential construction work in new areas has resulted in runoff rich in suspended solids that flows into the Summerwood stormwater management facility (SWMF).
Best Management Practices (BMPs)
Strathcona County has developed a set of best management practices used from the conceptual design stage to construction and finally, to operation and maintenance of each SWMF. Strathcona County and developers consult these best practices to determine effective stormwater management plans for the community.
Initially, Strathcona County's BMPs focus more on site design for new developments and eventually shift to site maintenance once facilities are established. In areas not currently under County ownership, such as the Summerwood site, it can be difficult to implement BMPs while the area goes through its various development stages.
Sediment control during construction phases
Silt fences and sediment forebays used at Summerwood only control a limited portion of sediment flow into the storm pond. Once vegetation around the facility is established, it will further act as silt fence and filter, but until nature can take over, a solution for sediment control was needed.
Other challenges
With ongoing construction in surrounding and upstream communities adding a constant feed of sediment to the storm system, on-site runoff containment in new communities would be an ideal solution, but is not always feasible. Prevention would be the ultimate goal, but we wanted to test out a possible treatment solution, such as Water Lynx™ Gel Block Flocculant.
Solution
In 2006, Strathcona County and Clearflow Group Inc. developed a unique pilot project that involved new polymer technology for sediment control at Summerwood storm pond.
Why polymers?
Non-toxic, anionic polymers have the ability to bind with suspended particles and quickly settle them out, resulting in improved water clarity and reduced pollutant loading in downstream water courses while being non-toxic to fish or wildlife.
Application of the product can be done by hand into a direct stream or pipe system eliminating the need for heavy equipment or site alteration. Passive dispensing reduces labour costs and does not require power to maintain operation. The polymer product normally breaks down naturally by UV rays usually within two to three months.
Visit Clearflow Group Inc. for more details on this specific polymer technology.
Method
By working together with Clearflow Group Inc. of Sherwood Park, Strathcona County was able to create a custom plan for Water Lynx™ Gel Block Flocculant installation upstream of Summerwood SWMF to decrease settling times drastically within the facility and reduce suspended solid loadings into receiving waters downstream. After a location for the pilot was selected, water and soil samples were collected and a site-specific polymer combination was created to address suspended solids entering the Summerwood site.
Results
Weekly water quality samples and observations were collected by both Strathcona County Utilities and Clearflow Group Inc. Within the first two weeks, visual improvements in water clarity were confirmed by the lab results. Within one month, the product had spread throughout the facility, improving not only the first pond as was originally expected.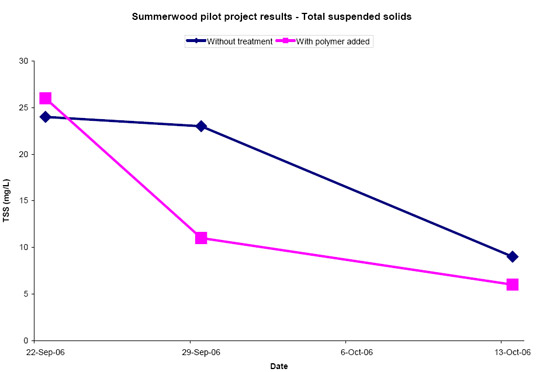 As water temperatures dropped in the late fall, total suspended solids increased at a comparative rate, which was an expected occurrence. Overall, the Water Lynx™ Gel Block Flocculant effectively reduced sediment concentrations entering the downstream creek despite significant sediment loadings into the facility from surrounding construction activity.
Water clarity at Summerwood storm pond improved from the first pond to the facility's outfall during the 2006 pilot study.
Utilities
Phone: 780-467-7785
watersaver@strathcona.ca