Sustainable Rural Roads Master Plan
Rural road recommendations now available
Last updated in 2010, the Sustainable Rural Roads Master Plan (SRRMP) guides how rural roads are maintained and improved in Strathcona County.  An online survey and open houses were held in 2019 to gather resident and road user input. 
Thank you to everyone that provided feedback on the draft recommendations. An updated SRRMP will be presented to Council in July.
---
Review SRRMP draft recommendations
---
New: Public engagement begins on County's transportation network
Share your thoughts and insights to inform an update to the Integrated Transportation Master Plan.
This plan guides how the County manages and invests in its overall transportation network: the roads, sidewalks, trails and transit that connect thousands of people and products, to and from their destinations, safely and efficiently, whether driving, walking or cycling.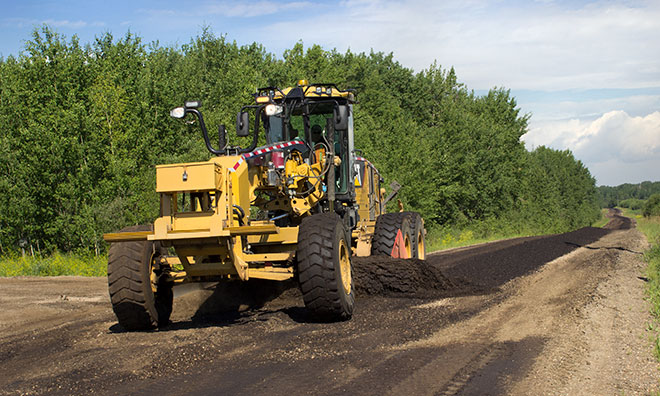 History
On May 4, 2010, Strathcona County Council approved the Sustainable Rural Roads Master Plan to guide the way rural roads are maintained and improved. The 2010 plan was developed through a review process that began in the fall of 2009. Public input was a key part of the review, and the input received was considered along with the economic, social and safety benefits of a well-maintained road network, and the need to protect the environment.
The 2010 Sustainable Rural Roads Master Plan replaces the previous 1995 Rural Roads Master Plan and its 2003 update.
The Sustainable Rural Roads Master Plan (SRRMP) encompasses approximately 1,300 kilometres of rural roadways that include:
940 kilometres of grid roads
330 kilometres of residential roadways within 202 country residential subdivisions
30 kilometres of residential roadways within eight rural hamlets
The key principles of the SRRMP are to adjust the overlay cycle, address width concerns, review intersection safety and increase spot repairs.
Priorities are set based on road condition, traffic volume and safety factors.
| | | | | |
| --- | --- | --- | --- | --- |
| Road Function Classification | Traffic Count (Vehicles/Day) | Standard Width (meters) | Surface Type | Total km's Currently |
| I | 1000 vpd | 9.0 m | Hotmix Asphalt | 90 km |
| II | 250-1000 vpd | 7.5 m | Coldmix | 488 km |
| III | 100-250 vpd | 7.5 m | Gravel Dust Control* | 244 km |
| IV | 0-100 vpd | 7.5m | Gravel | 126 km |
*Gravel dust control is based on the following criteria:
Intersection to intersection dust suppression if:

At least 100 vehicles per day (vpd) or between 65-100 vpd with four or more occupied approaches per mile

Spot dust control (153 m in front of occupied residences) if:

Less than 100 vpd with less then four occupied approaches per mile
Rural road maintenance
Strathcona County has a variety of rural roads to manage and maintain. Annual rural road maintenance programs and activities include:
Annual roadway improvements and maintenance are carefully chosen based on a variety of factors, including:
Current road condition
Current volume versus design volume
Current cross-section versus design cross-section
Future developments
Road improvements are prioritized based on traffic volume, as required.
Further information: