Rural Road Rehabilitation program
Survey for residents
Did you have construction on your road in 2021? 
We would appreciate your feedback on the communication you received during the construction process, as well as your overall satisfaction with the improvements that were made.  
This online survey will take about five to 10 minutes to complete: Annual rehabilitation post-construction survey
The survey will remain open until Tuesday, November 30. A summary report of the results will be posted within 60 days on the County's website at strathcona.ca/engagementreports.
Last modified: Nov. 8, 2021, 11:54 a.m.
Range Road 223 construction
Strathcona County will be making improvements to Range Road 223 starting August 4, 2021, weather permitting.
This work is required to address unexpected deficiencies with the construction that was completed in 2017, which does not meet County standards. We apologize for the inconvenience this will cause.
For more information, see the construction notice.
Last modified: Nov. 8, 2021, 11:54 a.m.
The Rural Road Rehabilitation program includes improvements to maintain to the quality and safety of rural grid roads and country residential roads.
Visit the CountyWorks construction web map to see what projects are planned.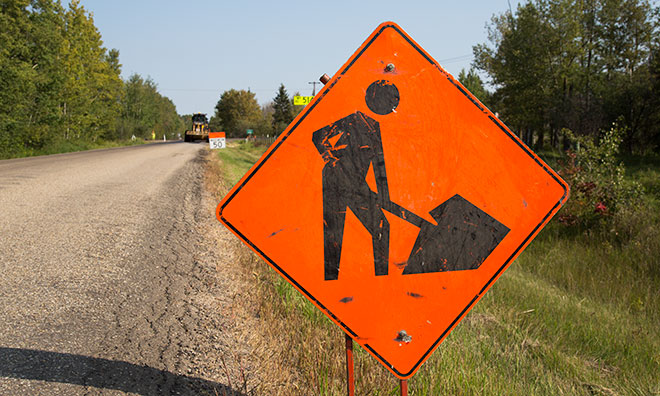 What to expect
Phase 1 - Base reconstruction
Information signs will be posted to let you know when the base repair work will begin.
This work will involve the rubblizing the existing roadway and applying a powdered Portland cement mixed with water to any areas of the road that require base strengthening. These areas will then be sealed with oil to protect the base until it is surfaced.
Phase 2 - Paving
A contractor will construct a new asphalt surface within approximately one week after Phase 1 is complete, weather permitting.
The paving process typically takes 3-5 days to complete.
Phase 3 - Approach blending and cleanup
Within one week after Phase 2 (weather permitting), County crews will blend all approaches to eliminate the small edge that will be left when the new surface is applied. Driveways will be blended using the same material that currently exists in the driveway.
Topsoil will be added as needed to tie-in the ditches, and debris will be removed from the area.
County Connect
Ask a question, provide feedback or report an issue.
Please note: Weather can cause unexpected delays. Although we strive to maintain schedules, timeline changes may be required.