Sidewalks and trails construction
Every day, thousands of people use Strathcona County's sidewalks and trails to get around our community.
Visit the CountyWorks construction web map to see what projects are planned.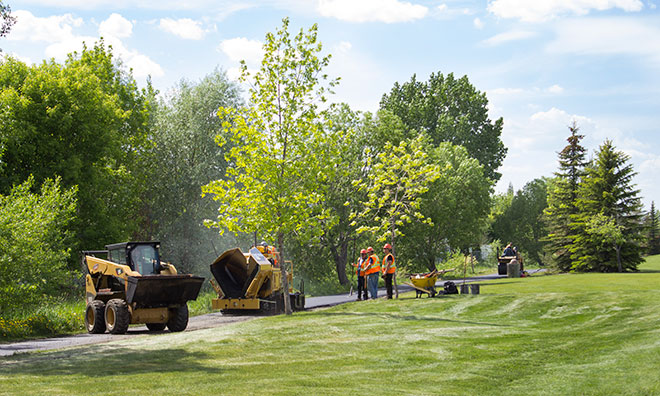 Annual maintenance
During construction season, the County repairs damaged trails, sidewalks, curbs and gutters in order to maintain the safety and efficient movement of pedestrians.
Trails and sidewalks are repaired on a priority basis.
Trails and sidewalks scheduled for construction will be closed while we make improvements. Please obey all construction signage.

Missing links – new sidewalk construction
Missing links is a project in Strathcona County that adds sidewalks into business and commercial areas that don't currently have them.
Sidewalks completed in 2020:
Premier Way near south entrance to Millennium Place, east and west sides of entrance,
Oak Street at entrance into Sherwood Park Arena, south side of entrance,
Broadview Drive from Baseline Road, west side approximately 110m north to first entrance,
Broadway Boulevard from Broadmoor Boulevard to Bremner Drive, south side.
County Connect
Ask a question, report it or suggest it using County Connect
---
County Connect
Ask it, report it or suggest it using County Connect
Please note: Weather can cause unexpected delays. Although we strive to maintain schedules, timeline changes may be required.