Sidewalks and trails construction
Every day, thousands of people use Strathcona County's sidewalks and trails to get around our community.
Visit the CountyWorks construction web map to see what projects are planned.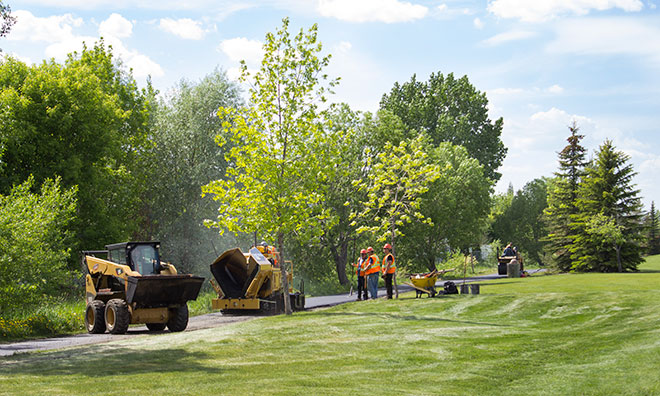 Annual maintenance
During construction season, the County repairs damaged trails, sidewalks, curbs and gutters in order to maintain the safety and efficient movement of pedestrians.
Trails and sidewalks are repaired on a priority basis.
Trails and sidewalks scheduled for construction will be closed while we make improvements. Please obey all construction signage.

Missing Links program – new sidewalk construction
The Missing Links program adds sidewalks into business and commercial areas that don't currently have them.
The following locations will have sidewalks completed in 2021:
Streambank Ave - Broadmoor Drive to approach of Strathcona Public Service Yard (north side) 
Strathmore Dr - Broadmoor Blvd to Kal Tire approach (second driveway west of Broadmoor Blvd, south side) 
Bison Way - south to existing sidewalk (west side) - completed as part of Bethel Way extension
County Connect
Ask a question, report it or suggest it using County Connect
---
County Connect
Ask a question, provide feedback or report an issue.
Please note: Weather can cause unexpected delays. Although we strive to maintain schedules, timeline changes may be required.