Virtual programs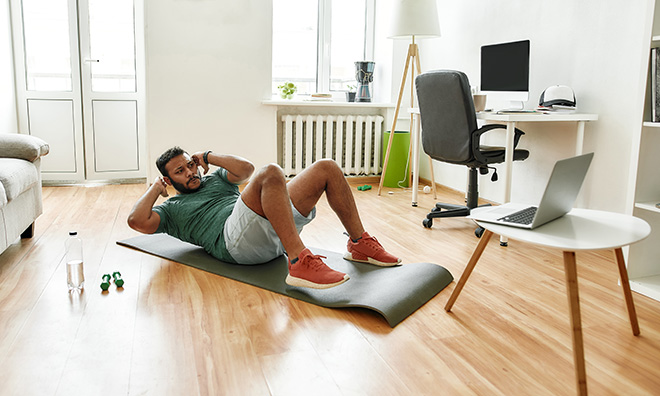 Know before you go: fall programs
Strathcona County is making every effort to ensure you are safe while taking part in our fall recreation and culture programs. COVID-19 safety measures can vary by program area, so please make sure you are aware of your program's know before you go considerations before arriving at your class.
Last Modified: Sept. 2, 2021, 4:22 p.m.
Virtual classes will allow you to participate in the comfort of your own home with the guidance of trained and experienced Strathcona County instructors. Instructors will provide instruction, modifications and encouragement to keep you engaged and motivated.
Programs offered
Strathcona County virtual programs are a convenient alternative to in-person classes. These are live, interactive classes, offered through Microsoft Teams.
---
Know before you go
There are a few things you may want to know before taking part in Strathcona County virtual programs.
Know before you go: virtual programs
Registration is for one participant, unless otherwise specified (example: family yoga).
Frequently asked questions: virtual programs
Register through Recreation Online

You will find all of the virtual programs listed under Registered Programs>Virtual programs

Yes, participants can cancel before class starts without penalty.

Call 780-416-3300 ext. 0.

Group fitness classes can also be cancelled by emailing group.fitness@strathcona.ca.

No, you can sign in as a guest. There is no charge for accessing Microsoft Teams.

Computer: Your personal computers browser must be updated to the latest version if you are going to attend the meeting using the Web Online Version. Please note: the web version of Teams will only work in these two browers.

Google Chrome or Microsoft Edge

Mobile: Consider downloading the Teams app for a better experience.

Windows/Mac, Android, or iPhone

You should receive the link a minimum of 1 hour before your class or program starts.

Please login 5 to 10 minutes before the scheduled start to ensure that there are no technical issues and to ask the instructor any questions you may have before class begins.

If your class starts in an 1 hour or less and you haven't received a link, or you have questions, email group.fitness@strathcona.ca for group fitness classes or rylee.mccloskey@strathcona.ca for youth classes.

When your camera is turned on, be advised that your image may be viewed by the instructor and other participants in the class. Participants are not permitted to record other participants. If your camera is turned off, no one can see you.

Equipment may be used, but our instructors will give options for those who do not have any. Equipment is not required.

No, at this time all classes are "live".
Last updated: Thursday, September 02, 2021
Page ID: 50904