The Millennium Card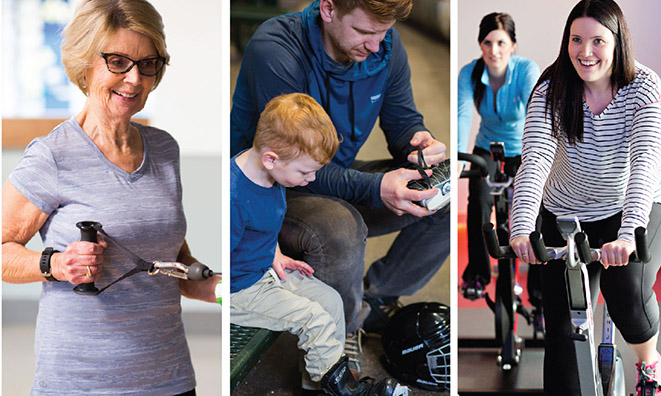 Updates and notices
Strathcona County indoor recreation facilities remain CLOSED, targeted re-opening dates listed below.
The safety of our guests and staff remains our top priority. Strathcona County is taking a phased approach to re-opening recreation and culture facilities. Residents can expect the delivery of County-run services to look different upon re-opening.
Millennium Cards remain suspended. Cardholders will be notified prior to payments resuming.
Please note: re-opening dates listed are targets and may be subject to change.
Get active. Be healthy. Stay connected. 
The Millennium Card is your all-access pass to Strathcona County's six recreation facilities including:
How is my membership or pass affected by the closure?
No. Annual Millennium Cards are suspended and no payments will be taken while facilities are closed.

Your annual Millennium Card and GARC Court pass will automatically be suspended while services are interrupted.

Flex Pass and Next Step pass holders will be contacted directly.
Millennium Card Benefits and Rates

Benefits:

more than 100 drop-in fitness programs
FREE Fit for Now fitness orientation (book at the front desk)
play at six recreation facilities
access classes specifically tailored for older adults
view FREE online instructional videos
hassle-free monthly renewals and card suspension option
NO contract!

Rates:

$39.25/month OR annual pass $471
additional senior's pass only $32.50/month

Activities included:

Access many older-adult focused fitness classes, pools, rinks, gymnasiums and more. Check out the drop-in schedule and calendar for Millennium Card-accessible activities:

Benefits:

more than 100 drop-in fitness programs
FREE Fit for Now fitness orientation (book at the front desk)
play at six recreation facilities
view FREE online instructional videos
hassle-free monthly renewals and card suspension option
NO contract!

Rates:

$49/month OR $588 annual pass
additional adult pass only $41.50/month

Activities included:

Access numerous drop-in fitness classes, pools, rinks, gymnasiums and more. Check out the drop-in schedule and calendar for Millennium Card-accessible activities:


Benefits:

more than 100 drop-in fitness programs
FREE Fit for Now and Fit for the Future fitness orientations (book at the front desk)
play at six recreation facilities
view FREE online instructional videos
FREE access to youth lounge
hassle-free monthly renewals and card suspension option
NO contract!

Rates:

customizable: start with one adult pass at $49/month and build from there
child/youth rates as low as $14.25/month with the purchase of an adult card
tots under 2Y FREE when added to an adult card
Family pass example: 2 adults + 1 child = $49 + $41.50 + $14.25 = $104.75/month

Activities included:

Access many drop-in fitness classes, pools, rinks, indoor playgrounds, gymnasiums and more. Check out the drop-in schedule and calendar for Millennium Card-accessible activities:

Benefits:

more than 100 drop-in fitness programs
FREE Fit for the Future (10-13Y) fitness orientations (book at the front desk)
play at six recreation facilities
view FREE online instructional videos
FREE access to youth lounge
hassle-free monthly renewals and card suspension option
NO contract!

Rates:

individual youth pass $39.25/month
as low as $14.25/month when added to an adult card

Activities included:

Access many drop-in fitness classes (age specific), pools, rinks, indoor playgrounds, gymnasiums and more. Check out the drop-in schedule and calendar for Millennium Card-accessible activities:

Benefits:

FREE Fit for the Future (10-13Y) fitness orientations (book at the front desk)
play at six recreation facilities
view FREE online instructional videos
hassle-free monthly renewals and card suspension option
NO contract!

Rates:

individual child pass $23.25/month
as low as $14.25/month when added to an adult card
tots under 2Y FREE when added to an adult card

Activities included:

Access pools, rinks, indoor playgrounds, gymnasiums and more. Check out the drop-in schedule and calendar for Millennium Card-accessible activities:
Millennium Card Options
No contract means you can suspend or cancel your Millennium Card without having to pay additional fees.

Suspend your card for a minimum of two months up to a maximum of six months, once within a 12 month period. Payments will not be processed during your card suspension.

To suspend or cancel your card, visit one of our Customer Service Representatives at our recreation centres or email millenniumcard@strathcona.ca before the 10th day of the month to stop your payment for the current month.

Choose one of the payment options below and then visit any one of our recreation centres above to sign up for your card.

Monthly Pre-authorized Payment: pay using either your credit card or electronic funds transfer (EFT). Bring a VOID cheque, a piece of valid ID and payment for the first month if you wish to pay using EFT. An automatic bank withdrawal is processed on the 15th of each month.

Annual Payment: pay the entire annual fee with cash, Visa, MasterCard, Amex or cheque at the time of purchase
---